Key Club sponsors successful Day of Service
On Saturday, Sept. 30, Key Club held their first annual Day of Service event with more than 200 student and staff volunteers. The club planned this event over the course of six months and was impressed by its success, as they originally planned to have only 100 volunteers.
Key Club started preparing for this event during early March of last school year.
"Mrs. McPherrin, Mrs. Phillip, and I first started planning for this event back in March 2017. Our first steps were to begin confirming volunteer locations and recruiting volunteers through Central's student activities organizations," said Mrs. Pendergrass, Key Club sponsor. "During the fall, most of the work related to organizing the day itself: making sure we had buses, drivers, confirming locations, getting permission slips to volunteers, and sharing volunteer project information with students and staff."
Key Club also held a food drive the week before the event, where they asked students and teachers to donate food throughout the week for Blessings in a Backpack. The club was able to donate a carload full of food, as well as cards volunteers made for the people who would receive the donations.
Many teachers volunteered to be supervisors for this event, and each supervised a different activity. There were 15 different volunteer opportunities and students were put into groups, whose volunteer work was pre-planned along with their supervisor. Some groups walked to Kramer's, Hanson Center, and other nearby places to do volunteer work.
"The best part was seeing everyone so eager to help. It was early, it was a Saturday, but no one complained. Every student and teacher was excited and motivated to get to their assigned spot and help the community," said Mrs. Fratella, teacher.
Mrs. Fratella supervised a group of students who went to Kramer's to ask for donations for Kiwanis, the international Key Club program, and give out peanuts in return. By the end of the morning, this group alone had raised around $200, which will go to tetanus vaccinations for pregnant women.
Students from clubs such as Habitat for Humanity, BPA, NHS, girls volleyball, Care Club, Citizenship Club, and Key Club participated in the event, which allowed for a successful turnout.
"[I decided to volunteer] to make a difference in the lives of others. Even if it's something simple like raking leaves, it's still helpful," said Ameera Ilyas, junior, who had participated on behalf of Habitat for Humanity at the Hanson Center. "It was a lot of fun too, it never really feels like work, plus at the end we got to feed the animals some of the weeds and they were all so cute."
This event is scheduled to continue again next year with the goal to get as many people as possible to volunteer and help around the community on this day.
Leave a Comment
About the Contributor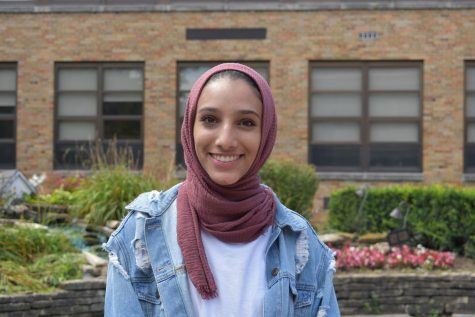 Hajera Naveed, Section Editor
Hajera Naveed is a Senior Writer and Section Editor for Devils' Advocate. Her hobbies include writing, volunteering, painting, and running. When she isn't...