School administers PSAT to non-seniors
The PSAT will be given to all non-seniors on Wednesday, Oct. 11 at 8 a.m. in the field house and other testing locations. On this day, seniors will not be required to come to school.
In the past few years, the test was only given to the junior class and any sophomores who wanted to participate. However, this year, freshmen will take the PSAT 9, while the sophomores and juniors take the standard PSAT.
"I appreciate how convenient it is for us to take them this year. I remember my sophomore friends last year stressing about signing up to for them and having to come on a Saturday to take it," said Lana Jawich, sophomore.
The juniors will be taking the PSAT/NMSQT (Preliminary SAT/National Merit Scholarship Qualifying Test), which is a practice version of the SAT that's used by the National Merit Scholarship Corporation to identify those who qualify for scholarships or financial assistance. The test does not require a fee or pre-registration, but it is important that students arrive at their testing location before 8 a.m. to start the test.
On testing day, the students will be released at 12 p.m. and buses will leave both at 1:30 p.m. and 3 p.m. Because the seniors have the day off, juniors are able to request a one-day parking pass to drive to school on the day of the test.
"I think [parking at school is] cool because it allows us to go home instead of having to wait until 1:30 p.m. or wait for our parents to come pick us up. It also allows us to get a preview into senior year when we get to have parking spots," said Ayana Otokiti, junior.
The school decided to give seniors the day off, unlike past years where they would have to attend school because having only one grade not testing would be disruptive for the rest of the school.
"The state moved to the SAT, so we wanted to give [all students] some practice with tests like these and understand where they are at," said Ms. Jennifer Regnier, director of counseling. "It's more disruptive to test just one class. Even though this is a huge undertaking, it makes more sense."
The school lists many opportunities for students to prepare for both the SAT and the ACT. The Hinsdale Public Library offers free practice exams for students with many coming up over the next few months. The next test is on Sat, Oct. 14, and students should sign up by the Thursday before the test to have a spot on the testing day.
The school also provides a code to receive the Kaplan self-paced ACT/SAT online prep class, worth $299, for free. Go here to learn more about how to get into this class.
Leave a Comment
About the Contributor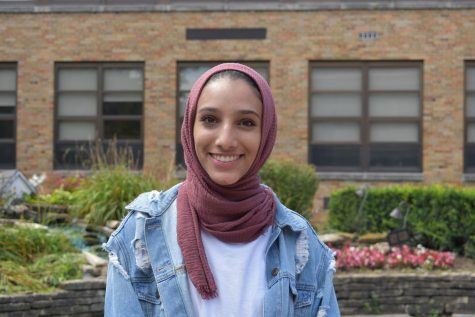 Hajera Naveed, Section Editor
Hajera Naveed is a Senior Writer and Section Editor for Devils' Advocate. Her hobbies include writing, volunteering, painting, and running. When she isn't...