Police alarm accidentally pulled after school
On Tuesday, Oct. 10, a police alarm was accidentally pulled after school, resulting in the arrival of many police vehicles. The police alarms are only meant to be pulled when there is an active shooter in the school or mass casualties have been hurt, which is why when it was pulled, police arrived following the standard protocol.
Police from the Burr Ridge, Oak Brook, Hinsdale, Willowbrook, and Clarendon Hills departments arrived at the school when they received notification of the alarm. Once the BluePoint police alarm is pulled, police departments from Hinsdale and all surrounding towns get a notification and immediately send a response team.
"I want to emphasize that pulling the police alarm is not a minor thing; it is an assumption that there is someone in the school that is an armed intruder or that there is a mass casualty," said Officer Art Holocek, school resource officer.
The alarm sounded around 3:50 p.m., and therefore there were not many students or teachers in the building compared to during school hours. However, the students and faculty that were there were told to go on lockdown, a state which includes closing blinds and locking doors.
After the alarm was pulled, blue strobe lights flashed to let the students and teachers know about the intruder suspected to be in the building. The school later found out that the police alarm was falsely pulled, as there was no evidence of an armed intruder.
"I saw the blue lights flashing around the school, but because I was in the auditorium I couldn't hear the announcement that there was a lockdown," said Safi Qadir, junior. "As I was leaving the school, I saw a lot of police officers that were heavily armed entering the school. I could hear someone, presumably, a police officer, tell someone to get on the ground."
According to the Chicago Tribune, the alarm had been accidentally hit by a student carrying sports equipment.
While the school cannot disclose much information about this event for security reasons, Mrs. Kimm Dever, director of deans, announced that the school is planning to put new security measures into place to prevent something like this from happening again.
"We will be adding covers over the alarms," Mrs. Dever said.
The school was cleared around 5 p.m., and students and faculty were free to return to their scheduled activities.
Leave a Comment
About the Contributor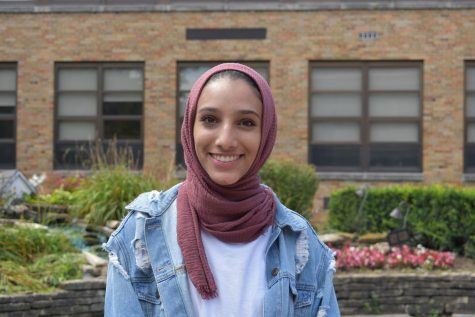 Hajera Naveed, Section Editor
Hajera Naveed is a Senior Writer and Section Editor for Devils' Advocate. Her hobbies include writing, volunteering, painting, and running. When she isn't...