Clubs partake in Halloween festivities
This October, Key Club and Varsity Club have gotten students into the Halloween spirit by spreading candy throughout the school.
Key Club sold 'boo bags' filled with treats that students could send to friends and teachers throughout the school day on Halloween. The boo bags were sold for $1 during lunch periods on Monday, Oct. 23 and Wednesday, Oct. 25.
"The proceeds go towards Key Club to help raise money for buying supplies for other events like blanket making," said Anna Glowniak, junior Key Club co-president.
Key Club's mission is to teach leadership through serving others. However, they also try to get peers into the holiday spirit.
"The boo bags ended up doing really well, and everyone who received one was really happy, so we are going to consider doing it in future years again," said Anna Kacergis, senior Key Club member.
The boo bags were decorated, and each had a different tag with phrases like "creep it real" or "trick-or-treat yo'self." In the spring, Key Club holds a similar event called "Kiss a Senior Goodbye," where students can send seniors Hersey kiss candy grams in their last days of high school.
Students also had the option of buying candy bags from Varsity Club, which could be used to collect candy around school.
"On the day of Halloween, students with bags were able to trick-or-treat to the different departments throughout all class periods and get unlimited candy," said Tess Ellithorpe, junior Varsity Club co-president.
The candy bags were sold for $2 each during lunch on Monday, Oct. 30 and before school on Halloween.
All the money received by Varsity Club was donated to the Rizzo Foundation, the school's chosen recipient for different fundraisers this year. The Rizzo Foundation is entirely run by Cub's player Anthony Rizzo's family. Their mission is to raise money for cancer research and to provide support for families battling the disease.
"The event went well, and the students who participated had fun and enjoyed it," Ellithorpe said.
Due to its success, Varsity Club hopes to host the event again next year.
In the coming weeks, Varsity Club will focus its efforts towards the annual Clubs that Care event, benefitting different families around Hinsdale during the winter holidays. Key Club members will also continue to volunteer around the community.
Key Club meets every other Friday at 7:30 a.m. in room 216, and Varsity Club meets every Tuesday at 7:30 a.m. in room 216 or 256.
Leave a Comment
About the Contributor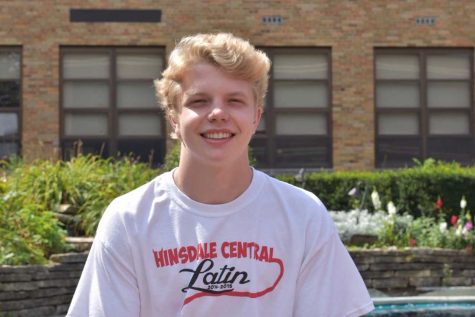 Scott Bitautas, Writer
Scott is a junior writer who loves playing basketball and tends to spend most of his day outdoors. Scott spends his summers swimming in Lake Michigan and...