Upper Room Christian Club attends Live Original tour
On Saturday, Nov. 11, members of the Upper Room Christian Club attended the Live Original Tour, which took place at the Harvest New Beginnings church in Oswego. The Live Original Tour is a nationwide tour hosted by Sadie Robertson, as well as guest band performances.
Sadie Robertson is a 20 year-old actress who got her start on Duck Dynasty and has since been featured in movies such as "God's Not Dead." To go along with her acting career, she has written four books titled Live Fearless, Live Original, Life Just Got Real, and Live Original Devotional.
While talking about the Live Original Tour with Broadwayworld.com, Robertson explained why she is excited for the tour.
"I am really digging deeper to make a connection between myself and the fans that come out to the show. The whole team is praying, dreaming, and creating together what the night will look like," Robertson said. "With that being said, it is going to be a very intentional show that I don't think people are going to want to miss."
In addition to Robertson, her brother John Luke Robertson speaks on the tour as well. The bands and artists that performed with them were Anthem Lights, Steven Malcolm, Chris McClarney, and Hollyn.
"Throughout the event, the audience participated actively. The Robertsons invited audience members on stage multiple times for different activities. Anthem Lights even brought a fan up to sing with them," said Elena Stojka, junior member of the Upper Room Christian Club.
The purpose of the tour is to encourage people to be themselves and to dive deep into issues that impact the younger generation. The main issues the tour focuses on are social media, body image, making the right choices, depression, and anxiety.
"I found the Live Original Tour fun, uplifting and pretty inspiring. It was a friendly and welcoming environment with a lot of kind people," said Elena Naborowski, senior member of the Upper Room Christian.
Tickets were all sold out, so only a select number of Upper Room Christian Club members attended.
A similar event, Winter Jam Tour, will take place on Friday, March 30 at the Allstate Arena.
Leave a Comment
About the Contributor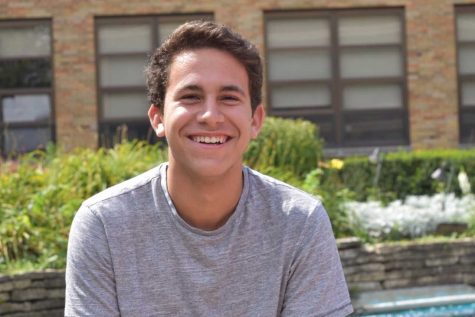 Brandon Belgrad, Writer
Brandon Belgrad, senior, is often spotted running through the streets of Hinsdale. He is a part of the cross-country and track and field teams. Along with...