Salt Creek Ballet performs "The Nutcracker"
Salt Creek Ballet performed its annual rendition of "The Nutcracker" on Saturday, Nov. 25 and Sunday, Nov. 29 in the school's auditorium. "The Nutcracker" is a classical Christmas ballet which contains mostly dancing with acting as well.
Salt Creek Ballet has put countless hours into this production, with three-hour practices on weekdays and seven-hour practices on the weekends. Each costume was also expensive to make, with the main characters' costumes all around $1,000 each.
"You can tell how much went into this. I could only imagine the number of hours each performer put in," said Ashley Fodor, junior. "I was actually surprised about how good it was. I was entertained for the entire play."
There were around 80 local students in this production, ranging from second graders to seniors in high school. Salt Creek's practice groups are organized from A-H, starting with A for second graders and progressing to H for freshmen.
After freshman year, one would then be put into company, which currently has 15 members. Company practices for an additional 10 hours each week.
"Dancing is a really big time commitment and sometimes can be emotionally and physically exhausting," said Jenny Witt, junior. "It can get really hard but it is all worth it. In the end I would rather do this than anything else."
The style of ballet that is used in "The Nutcracker" is Russian Ballet, which is the strictest form of ballet. It requires clean expressions and a more structured technique.
"It is connected so wonderfully, the music and the story," said Zhanna Dubrovskaya, Artistic Director and choreographer, in an interview with the Chicago Tribune. "Each step that we create inspired us through Tchaikovsky's music and that story. We try to keep the story of the ballet, even if we change some technique or steps, we really focus to save the original story."
For those who missed the ballet at school but are still interested in attending, Salt Creek Ballet will perform two more shows at Governors State University on Saturday, Dec. 9 and an additional three more shows in Skokie on Saturday, Dec. 23 and Sunday, Dec. 24.
Leave a Comment
About the Writer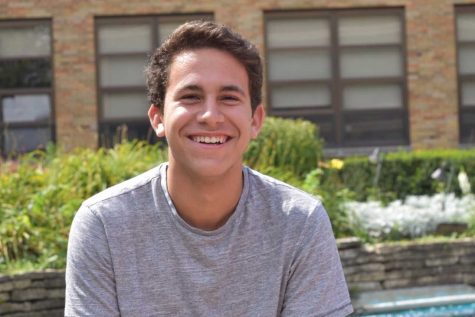 Brandon Belgrad, Writer
Brandon Belgrad, senior, is often spotted running through the streets of Hinsdale. He is a part of the cross-country and track and field teams. Along with...