School packs the place for Special Olympics
On Wednesday, Jan. 17, the Special Olympics basketball team played both the Willowbrook High School Warriors and the Addison Trail High School Blazers at the annual Pack the Place game. The Red Devils fell short with a final score of 28-36.
Despite the loss, the game was filled with enthusiasm from its players and large audience. National Honor Society members, cheerleaders, pommers, and students from other clubs and sports came out to support the team. There were also many parents and teachers spectating.
"This is the most crowded game I think we have ever had," said Caitlin Collins, junior and Special Olympics coach. "Usually the audience consists of coaches, a couple of the parents and some students from the school."
The National Honor Society (NHS) held a split-the-pot raffle to raise money for the team, where they sold raffle tickets during the game: $1 for one ticket, $5 for 6 tickets and $20 for 30 tickets. The winner of the raffle always receives half of the money that is collected from selling tickets. This year, the winner decided to remain anonymous however she generously donated her winnings of $125 to the Special Olympics team. In addition, NHS collected donations during lunch periods and throughout the game, since watching the game was free of charge.
"We give 100 percent of the proceeds directly to the team, so they can use it for any expenses they have," said Mrs. Chandler, NHS sponsor. "Oftentimes they make a donation to the Polar Plunge team that gives money to Special Olympics Illinois."
There was also a bake sale run by a couple NHS students, in addition to the other fundraisers. With the sale of cookies and brownies, the students were successful in raising more money for the cause.
This was the team's ninth game of the season and one of their best. Players were able to score more points than usual. So far, they have won one contest.
"I scored a goal, so that was really fun," said Tara Rao, junior and Special Olympics basketball player.
The game was also senior night for the team, and they spent time honoring their only senior, Parth Kachru. Also, during halftime, both pommers and cheerleaders performed for the crowd.
This was the last home game for the team, however, playoffs will be towards the end of the season in February.
Leave a Comment
About the Contributor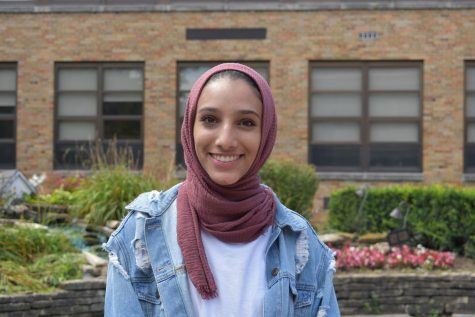 Hajera Naveed, Section Editor
Hajera Naveed is a Senior Writer and Section Editor for Devils' Advocate. Her hobbies include writing, volunteering, painting, and running. When she isn't...