Middle schoolers to attend Operation Snowflake
On Friday, March 16, students and staff at school will host Operation Snowflake for the middle schoolers from feeder schools. The high school invites all feeder schools to join, and this year, students from Clarendon Hills Middle School, Hinsdale Middle School, and Westview Hills Middle School are able to participate.
Snowflake, which is held both in the cafeteria and field house, will be from 3:30 p.m. to 8 p.m. It will consist of many different activities with the purpose of getting middle schoolers comfortable and ready for the high school experience. There will be student speakers, discussion groups, and team building exercises to accomplish this goal.
Snowflake is a middle school version of Operation Snowball, emulating the environment of Snowball retreats and their goals in an effort to introduce middle schoolers to the event, but also to get them comfortable with the school and encourage them to make good decisions.
"This year we created a theme, which is 'don't judge a book by its cover', and it's going to emulate Snowball more in terms of making positive choices and navigating expectations and pressures in high school," said Ms. Hoffman, social worker and staff coordinator of Snowflake. "We will have student speakers and teen leaders do skits which are about expectations from external pressures like parents, coaches, teachers. We talk about social pressures and do things that encourage them to make good choices."
This year will be Ms. Hoffman's first as Snowflake coordinator and as such, she has planned to make the event more closely related to the larger Operation Snowball, which is for high schoolers. Operation Snowball's purpose is to show that students can have fun without using alcohol and other drugs.
Many students who participated in Snowball from Central are going to become student leaders for this one-day event and will lead activities and discussions for the middle schoolers.
"I wanted to do it because I feel that there is a lack of support for eighth-graders because you assume that they are ready to go into high school," said Samone Khalil, Snowball participant, and Snowflake student leader. "However, it is a huge change from middle school, especially now with all of the new and easier ways to get e-cigarettes; it is not emphasized how bad it is because most middle schoolers do it now."
Although Snowflake has been going on at Central for about 13 years, last year's Snowflake was canceled because there were not enough students enrolled for it to run. This year Central had student leaders go to feeder schools and promote this event, along with the middle school teachers and staff.
"For Snowball, we recruit the kids at our school so it isn't hard to do," said Mr. Kupres, previous leader of Operation Snowflake. "It's hard to promote this event and get people to join because we don't have connections with the middle school kids."
In future years the club has been planning to increase enrollment with things like trailer videos which will be played for middle schoolers to hype them up for the event. Ms. Hoffman also wants to make Snowflake align more closely with Snowball so that the students who participate in Snowflake will continue with Snowball in high school.
The event is open to all middle schoolers, however for the current eighth graders who will be attending high school in the following year, there is a panel with juniors and sophomores who answer any questions that they might have about high school. A lot of the questions they get are related to things like extracurricular activities, studying, and homework.
After team building games in the field house, student speeches, and discussions in small groups, the group of middle schoolers all eat dinner together in the cafeteria before leaving. The event has always received positive feedback from students who attended.
Leave a Comment
About the Contributor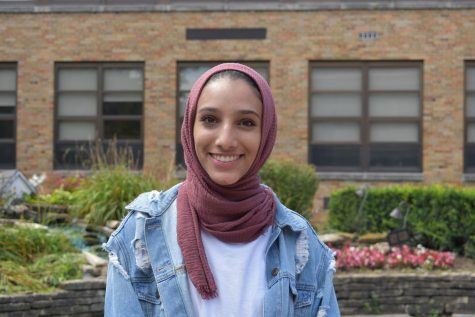 Hajera Naveed, Section Editor
Hajera Naveed is a Senior Writer and Section Editor for Devils' Advocate. Her hobbies include writing, volunteering, painting, and running. When she isn't...