Popular books face off in library's annual "March Madness"
The library is holding a book "March Madness", which puts the school's most popular books against each other. All are encouraged to vote, as it is open to both students and staff. The tournament takes place the first three weeks of March, with the third week deciding the winning book.
The tournament will feature 32 books chosen by the librarians, and they will be grouped into eight divisions, including fantasy, mystery, dark fiction, future movies, "life is a highway", "love is all you need", historical fiction, and banned books.
The librarians chose the most popular books that were checked out this year so that during the voting process students will be familiar with the selected books.
After each week, the library will give out prizes to those who participated. These prizes are typically gift cards from Chipotle or Amazon. There will also be a raffle at the very end with a bigger, but right now, undecided prize.
"We've been doing this for five years, and we get a lot of participation each year. We do giveaways each week, and it is always something that the students and staff look forward to," said Mrs. Giarritano, librarian.
Some students even saw titles of books from the English department's curriculum.
"I really hope Catcher in the Rye wins. I voted for it, and I enjoyed reading it in English class," said Vincent Zelisko, junior.
The librarians have promoted March Madness by setting up posters around the school, and decorating parts of the library with basketball-themed gear. The librarians have also emailed the students and staff the GoogleForm where voting occurs.
"The Fault in Our Stars was well-written, and it took me through an emotional rollercoaster. It left a mark on me to not take life for granted, so I hope it wins," said Mae Javois, junior.
To see the books that are still in the running and vote, students and faculty may check out the GoogleForm or see the written ballots in the library.
Leave a Comment
About the Contributor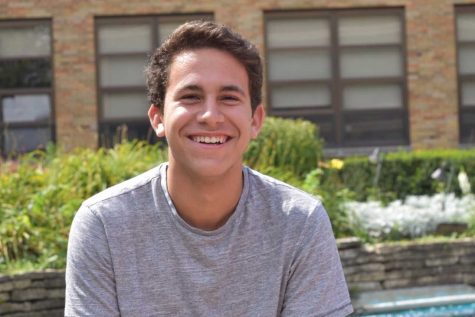 Brandon Belgrad, Writer
Brandon Belgrad, senior, is often spotted running through the streets of Hinsdale. He is a part of the cross-country and track and field teams. Along with...