NHS hosts blood drive and "Stuff the Truck"
On Thursday, March 8, the National Honor Society hosted a blood drive throughout the day and a "Stuff the Truck" collection of donations for the People's Resource Center before school. Students donated blood periods one through nine in the field house, and the blood was then shipped to Heartland Blood Center and then distributed to local hospitals.
In addition to the collection on Thursday, "Stuff the Truck" also ran as a schoolwide competition throughout the week as students were directed to bring in nonperishable items to their first period class. Students donated supplies, such as diapers, detergent, and other cleaning supplies. The top three classes with the most donations will get free breakfast.
"Around this time of the year not many people are donating supplies, so it is a great time to have this going on," said Mrs. Gina Chandler, NHS co-sponsor.
Also on Thursday, many students participated in the blood drive. In order to donate, each student had to be over 110 pounds and be at least 16 years old. Before the blood was drawn, there was a mini health screening to check if the student was healthy. It took around five to 10 minutes to draw the blood, and once it was drawn, juice and cookies were given to replenish the body. The whole process took about an hour for each student.
After the blood was donated, it was shipped to Heartland Blood Center, a blood donation center in Aurora, Ill. The blood will be split into three parts: red blood cells, plasma, and platelets. It will be distributed to hospitals that need a specific blood type, and potentially three lives can be saved for each student who chose to donate.
"I know some people are nervous about donating blood, but I've gotten my blood drawn numerous time for different reasons, so it wasn't too bad. This was my first time being able to actually donate the blood, so it was exciting," said Emily Goggin, junior.
Although there was a relatively high turnout this year, around 40 kids were not allowed to donate due to health complications.
"I've never gotten my blood drawn before so this is a new experience," said Matt Lorenz, junior. "I was told by a teacher that one donation can save three lives down the line, so it's cool to know that I can make a difference this easily. In times like this I know that there is a high demand for blood, so I'm just doing what I can to help."
This was the last of NHS's major projects for the rest of the year. All volunteer hours are due by midnight on Sunday, April 8 for students who would like to graduate with NHS honors.
Leave a Comment
About the Contributor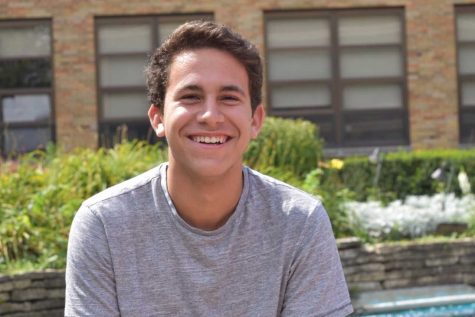 Brandon Belgrad, Writer
Brandon Belgrad, senior, is often spotted running through the streets of Hinsdale. He is a part of the cross-country and track and field teams. Along with...