Yodeling Walmart boy goes viral
Recently, Illinois native Mason Ramsey has taken the Internet by storm. In the past few weeks, the 11-year-old has gone viral, his new fame stemming from a video posted on Twitter of Ramsey singing Hank Williams' "Lovesick Blues" in a Walmart in Golconda, Ill.
The original tweet of Ramsey's performance in his local Walmart received more than 113,000 retweets and more than 358,000 likes, instantly making Ramsey an Internet sensation. Since the video went viral on Thursday, March 29, countless remixes of Ramsey singing have been made, which have also gained popularity.
"I just want to thank everyone for all the support," Ramsey said in a recent tweet. "Everyone that has seen my yodeling has been amazing."
Despite being a self-proclaimed "country boy," Ramsey has big goals for the future.
"My dream is to sing at the Grand Ole Opry," Ramsey said. Ramsey reached a new level of fame when he was invited onto The Ellen DeGeneres Show on Tuesday, April 10. On the show, Ellen DeGeneres surprised Ramsey with an opportunity to sing at the Grand Ole Opry, fulfilling the yodeler's biggest dream. Just one day later he returned to Harrisburg, Ill. to perform yet another concert at Walmart.
Ramsey has become popular across the country, so it's no surprise that students here have come to support him as well. For the past few weeks, students have been watching Ramsey's videos as well as listening to remixes that have been made on Instagram and Twitter.
"I think the yodeling video is hilarious, especially because [Mason] is from Illinois but seems so southern," said Great Kumskis, senior. "I laugh everytime I watch the original video or just hear him sing in general."
As with any viral sensation, there are also students who could do without hearing Ramsey's viral video every day.
"I think [Mason] is a really cute kid, but after a while the song can get a little repetitive," said Sammy Guido, junior, "It's funny, but it also gets stuck in my head really easily now."
Whether you're a fan or not, it's likely we'll be hearing more yodeling from Mason Ramsey in the future.
Leave a Comment
About the Writer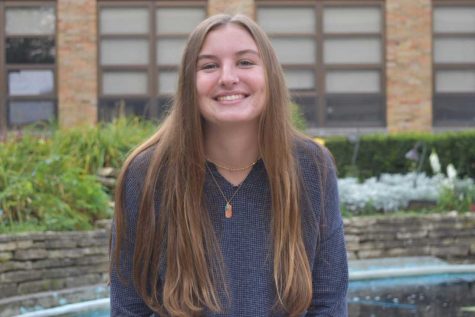 Samantha Moriarty, Writer
Samantha Moriarty is a junior who can most likely be found on the soccer field or on the couch. When she isn't waking up extremely early to fight for...