Hinsdale Humane Society raises money through Pennies for Paws
From Monday, April 9 to Sunday, May 13, the Hinsdale Humane Society is hosting the 10th annual Pennies for Paws event. Pennies for Paws is a program designed to bring humane education to classrooms and businesses, while raising money for the animal shelter. All schools and businesses are invited to participate.
Throughout the program's duration, participants will collect spare change. The Hinsdale Humane Society will then pick up the spare change donations at the end and give schools and businesses the option to have a Hinsdale Humane Society representative speak to them.
In the presentation, the Hinsdale Humane Society will detail where the donations go, who it is helping, and a general overview of the Humane Society. The money from this fundraiser will go to food for the animals, as well as funding for summer programs.
"We really try to show the students how the money is helping us and where it goes. We then try to empower them and show that young students can make a change in the world," said Kim Iffert, operations manager.
The Hinsdale Humane Society provides safe housing for animals that are lost, networks with other overpopulated shelters, and acts as an adoption center for dogs and cats. It also teaches a number of classes and provides health services to dogs in need.
Although the list of participating schools this year hasn't been released yet, Lane Elementary School and Madison Elementary School usually participate, along with other elementary schools in the area. Hinsdale Central has not participated in past years. In a typical year, the Humane Society will receive around $700 from each school. In years past, donations have come from as far as Villa Park and Addison Trail.
In October, the Hinsdale Humane Society will move to a new location in Hinsdale, which will be larger and allow the organization to take in more animals. It currently takes between 1,000 and 1,200 animals per year, and the new facility will create the possibility to take in at least twice that.
The Hinsdale Humane Society is located at 22 N. Elm St., Hinsdale, Ill. 60521. For more information on its programs, visit the organization's website.
Leave a Comment
About the Contributor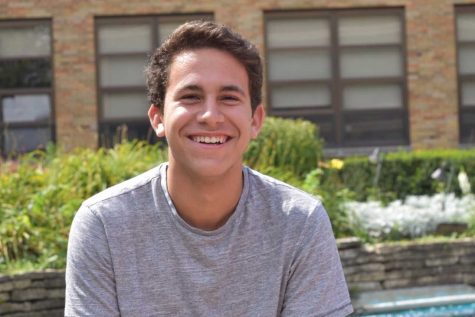 Brandon Belgrad, Writer
Brandon Belgrad, senior, is often spotted running through the streets of Hinsdale. He is a part of the cross-country and track and field teams. Along with...