Science Olympiad places fifth at state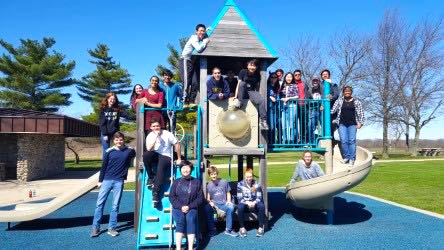 On Saturday April 21, the school's Science Olympiad team went to state at the University of Illinois Urbana-Champaign. The team, consisting of 15 members, placed fifth at state amongst 50 other high school teams from the division as well as a number of middle school teams.
Cuts to the varsity team were made back in December, so all the members of this team competed at state. Each member of the team competed in three events, often times with a partner. A handful of pairs of partners placed first and second at state, which, according to head coach, Ms. Gabric, was a big accomplishment.
For the Chem Lab event, Chuqi Zheng, junior, and Zan Hitchens, senior, placed first. Partners Sanchayana Raghuvir, senior, and Alyssa Li, sophomore, placed second in Disease Detectives, which requires students to take a test on tactics used to detect diseases. Daren Chen and Camille Knott, juniors, also placed second in the Hovercraft event, where they built a hovercraft.
"I was upset that I didn't do well in my other events because I focused way too much on the Hovercraft event," Chen said. "The weekend was fun though, we got to prank the seniors."
The underclassmen had decided to prank the seniors as a way of memorializing their last competition with them. There are seven seniors on the 15 member team, so once they graduate, the team will be filled with many new members.
"This year's prank was a scavenger hunt," said Alyssa Lee, sophomore. "When our buses get to the UIUC campus, we have a few hours of free time to walk around. This year, when we got there, we took 23 combination locks and locked up all of [the seniors'] bags. The underclassmen ran around the campus and set up clues in different locations for the seniors to find. Each clue had a science-related problem on it that would give them the answer to one of the locks. So we sent the seniors on a massive scavenger hunt to unlock the locks and get their stuff back."
@RedDevilSpirit come to the cafe right after school so we can send Science Olympiad off to STATE!! @ThisIsHCHS @RedDevilsAD pic.twitter.com/xc7hvaA2FX

— HCActivities (@HCHSActivities) April 19, 2018
The Science Olympiad team arrived at U of I on Friday to become familiar with the campus and find out where their competitions would be held. The competitions were held on Saturday from 7 a.m. to 4 p.m. There were 23 different events, each lasting for an hour. Some were more test-like, with many written assessments, and some were more focused on hands-on activities, like building a hovercraft.
To get to state, the team had to place in regionals which they have done for the past couple years. Last year, the team also placed third in state but they have never placed above this because of two schools who have always had very high achieving teams: New Trier High School and Stevenson High School. According to Ms. Gabric, being able to win comes down to the team and their other outside commitments.
Ms. Gabric is going to retire at the end of this year, leaving the head coach position empty. However, rather than filling that position, the other coaches will probably end up collaborating together, so no one will be completely in charge. She hopes that in future years the team will be able to recruit more members and someday win at state.
"If anyone really loves science, I think being involved in Science Olympiad shows colleges they have a true love for science and getting involved," Ms. Gabric said. "You are able to build things like the helicopter and the mouse trap car, get deep into interesting topics like forensics and optics, and solve chemistry and physics problems. When a couple of university admissions counselors got together, they said that they wanted to see clubs that demonstrate students following their passion."
While at the University of Illinois, the team met Brendan Eng who is currently getting his PhD and is working with lasers. His passion for lasers sparked when he participated in his high school Science Olympiad team. "That's what we hope to be able to give students," Ms. Gabric said about Eng.
Leave a Comment
About the Contributor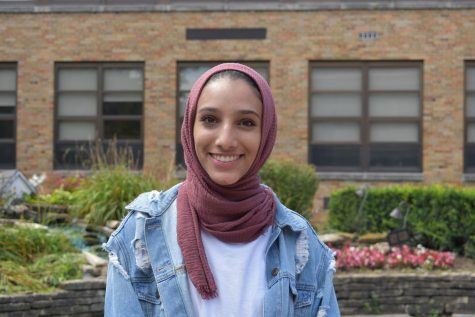 Hajera Naveed, Section Editor
Hajera Naveed is a Senior Writer and Section Editor for Devils' Advocate. Her hobbies include writing, volunteering, painting, and running. When she isn't...