Student Council presents Banana Split Day
On May 16, student council and the PTO held Banana Split Day for students to enjoy during all lunch periods. The ice cream was provided by Baskin Robbins.
"[Student council members] helped with serving the banana splits for all the lunch periods," said Becca McCann, sophomore, and student council member.
Students were told beforehand to bring a banana to get free ice cream and toppings. Though, bananas were provided for $1 each for those who didn't bring one.
"It was a fun serving the school," said Greta Garber, junior, and student council member. "I peeled the bananas and [Matthew Ritz] scooped the ice cream."
Student council set up tables near the main entrance of the cafeteria where members scooped ice cream for students.
"My banana split was great but they ran out of bananas pretty early so some kids couldn't buy them," said Roland Chira, senior.
The AP Language and Composition exam took place on the same day, keeping some students from going to their regular lunch periods.
"A lot of us had AP tests during the beginning of the day," said Thomas Williams, junior, and student council member. "But as soon as we were done we came back to the cafeteria to help serve ice cream or clean up, it was a lot of fun."
Leave a Comment
About the Writer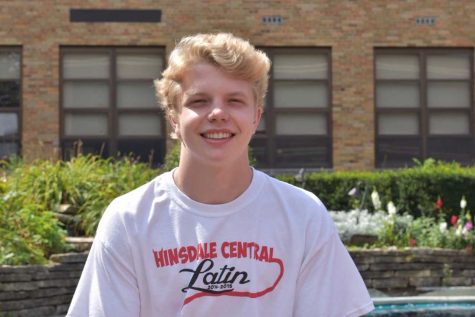 Scott Bitautas, Writer
Scott is a junior writer who loves playing basketball and tends to spend most of his day outdoors. Scott spends his summers swimming in Lake Michigan and...