District makes changes to attendance policy
Hang on for a minute...we're trying to find some more stories you might like.
With the start of the new school year, the Board of Education changed the attendance policy to regulate the students' absences further.
The new updates made to the attendance policy focused primarily on differentiating between excused and unexcused absences, and the procedures and consequences for each.
The student handbook states that in order for it to be considered an excused absence, students who are called out of class by a parent must be absent for one of the following reasons: illness, family emergency, religious holidays, or other specific situations.
For pre-arranged absences, students have to fill out a pre-arranged absence form for these types of absences and turn them into the Dean's Office. Before, the school only required proof for doctor's appointments. Now, college visits and students participating in outside school activities require proof as well. If a student is absent because of a college visit, he or she must show proof of that visit with the appropriate paperwork.
The other major change to the policy is the time allowed for a student to make up schoolwork. The handbook states that students have two days to make up tests or quizzes. However, this varies depending on the teacher. Mrs. Kimm Dever, director of deans, specified that the teachers decide on the number of days that the students have to make missed work, with two days being a minimum.
Another new rule that the Board of Education added this year is that when a student has 10 excused or unexcused absences, the student will only receive a maximum of 75 percent on any class assignments or assessments that they missed.
"Only students who have ten excused or unexcused absences, cut class, missed class to study or rest, or senior ditch days will be contacted by the Dean and then follow the intervention process," Dever said.
The reason behind these policy changes was the school code. Students were missing several school days for reasons that the school did not consider a valid excuse in line with the definition of valid cause, as defined by state law. The Illinois School Board Policy was also updated, and now, it requires schools to collect data on absences and provide interventions for students with excessive absences.
The outcome with these policy changes may be that students will make efforts to not miss school as much as they had in the past.
"With the new policy, I will probably try and schedule doctors' visits and vacations to be on weekends and not school days," said Lisa Su, sophomore.
Other students aren't too worried about the change.
"The new policy doesn't affect me as much because I already made efforts to not miss school so I wouldn't fall behind on schoolwork," said Alex Coulolias, junior.
The full absence policy can be read on pages 17 to 23 in the student handbook and planner. To get more information on the attendance policy, see the following page to contact the Director of Deans.

About the Contributor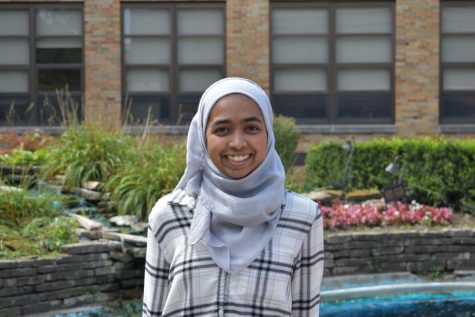 Saba Ali, Editor-in-Chief
Saba, senior, is a chocolate vacuum (basically eating any chocolate in sight) and a nap queen, who can take a nap virtually anywhere. She loves Ben &...