Varsity Club screens "Spiderman Homecoming"
Continuing the homecoming festivities, Central held Homecoming movie night on Sunday, Sept. 16 where Varsity Club screened "Spider-Man: Homecoming". Movie-goers attended the movie on Dickinson Field immediately after the Powderpuff game, which was held around 6:30 p.m.
Event organizers encouraged students to bring blankets and folding chairs to enjoy a movie under the stars, free admission. There was also a stand selling tacos that were being made on site to provide food for the viewers, which was from Jimenez Taqueria Presupuestos Gratis.
"It's the one homecoming activity that everyone enjoys going to," said Raabia Sheikh, senior. "It brings us all together to socialize and enjoy each other's company. The tacos were a bonus as well."
Varsity Club chose the movie to reflect this year's homecoming theme: Superheroes.
"Over the summer, when we choose what theme and decorations we would have, we also watch about six to seven movies relating to the theme for more ideas concerning the dance," said Ayana Otokiti, senior and member of Varsity Club. "One of the movies we watched was 'Spiderman Homecoming' and all the board members watched it and loved it. So, we considered it a movie we definitely had to watch for Homecoming movie night."
"Spiderman Homecoming" has been a well-known movie since its release in 2017. It has a rating of 92 percent on Rotten Tomatoes, which made it a perfect fit for the movie night. The film also features up-and-coming actor, Tom Holland, which makes it popular among young audiences.
Homecoming movie night was a good start to the week of festivities to celebrate Homecoming. The homecoming week, Sept. 17 to 21, will be celebrated with dress days including pajama day, blackout, superhero attire, college wear, and the classic Friday red-out. Other festivities include the pep rally on Friday, Sept. 21 as well as the game and parade which will be held the day after.
"I am really excited what this week has to offer," said Rajhav Sharma, freshman.
Leave a Comment
About the Contributor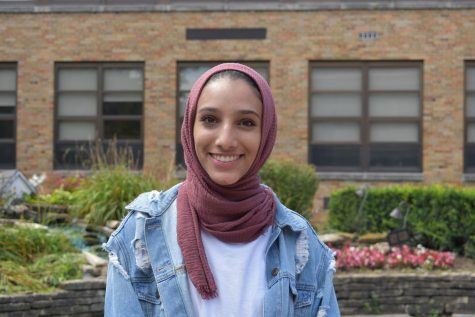 Hajera Naveed, Section Editor
Hajera Naveed is a Senior Writer and Section Editor for Devils' Advocate. Her hobbies include writing, volunteering, painting, and running. When she isn't...