Signed and committed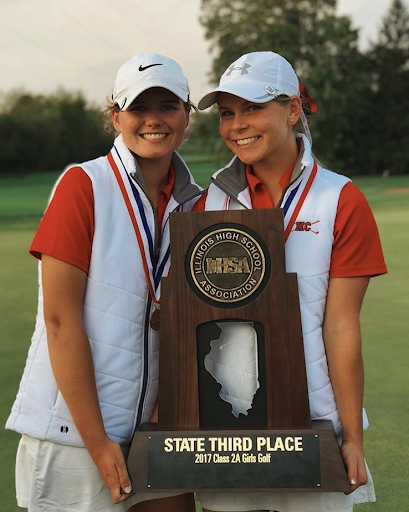 Out of all of the high school athletes in the United States, only two percent go on to play their sport division 1 in college. The process for athletes to verbally commit takes a lot of time but has many rewards, and for a few Central students, this early commitment has become a reality.
Mr. Robert Aurich is in his fourth year as a school counselor, after teaching English in the building for many years. In his role as counselor he assists students with many aspects in academics, but also provides feedback on the college admission steps.
"[The goal is that the students] weigh out all of their options for affordability and fit and they need to visit the school," Aurich said. "The key thing is that they are happy with their decision."
In order for students to commit to a college, the collegiate coach has to show interest and give an offer to the students to play with their program. The athletes have to be exposed to scouts and market themselves.
"[I had to email] a bunch of different coaches and [try] to get in contact… once they showed interest," said Gillian Filer, senior who verbally committed to Boston University to play golf.
Madeline Pisani, junior, is committed to the University of Colorado for lacrosse. "The process was hard and long… but 100 percent worth it," Pisani said.
Athletes have various reasons why they may choose to play their sport in college, ranging from scholarships to simply loving the sport.
"It's very healthy for students who have played competitively for a long time to maintain the involvement in that thing that has shaped their schedule and hopefully allowed them to be successful," Aurich said.
Aside from staying with a sport out of dedication to it, some students choose the school that fits them academically and in personality.
"I chose Colorado because I wanted a big school and football team," Pisani said. She also said she loves the loves the mountains.
Filer said she really likes the coach and girls and loves the team dynamic. She also knows they have a really good communications programat Boston University, which is fitting because she wants to become a sports announcer.
Students who verbally commit to a college have generally made their early decision before the rest of their class.
"[When students commit early, they're] provided a measure of relief because a perceived [to be] difficult and stressful situation is over and they can relax for their senior year," Aurich said.
Before athletes actually commit, they make choices throughout high school, which some say forces them to sacrifice other experiences.
"I couldn't run track as much during the summer and I had to take time off in the spring to focus on golf. I was gone 45 days this summer playing tournaments and doing the sport," Filer said.
Playing a sport in college is seen as more competitive and difficult than in high school. Travel sports and high school teams that are high intensity have prepared most players to match the level in college.
"I'm sure I will get more nervous for playing at such a high level when the time comes, but right now I'm just super excited because it's something I've worked hard for and it paid off," Pisani said. "It's not stressful but it is a lot of work to make sure that you are going to be ready and prepared to keep up with the college game once the time comes."
Filer said she found the sacrifices worth it in the end.
"I feel like competing and traveling around the country has prepared me [to play at the collegiate level]," Filer said.
Although the students have committed themselves to a school, it is still important that they keep their options open and talk to adults about alternative routes.
"Students who have verbally committed still need to apply to other places. It's risky to verbally or mentally commit to a place without really giving himself a chance to do research and reflect on what they want," Aurich said.
Typically athletes make commitments to colleges in the fall and spring.
View Comments(1)