Students prepare for Operation Snowball camp
Operation Snowball is just around the corner, and students are getting ready for a three day retreat that will take place from Nov. 8-10 at Camp Mantiqua in Frankfort, Ill. Snowball is an organization that allows students to build friendships and self-esteem.
The program includes activities that students can enjoy including positive discussions, dancing, gaga ball, and more. These activities help students improve their communication skills, and learn ways to cope with stress. Students can also be entertained by dancing or camp fires.
The day of the camp, there will be bus transportation provided by both schools. Buses from both Central and South will depart at 2:15 p.m. The day the students come back, Saturday, buses will drop students off at South at 4:45 p.m. where parents can pick up their kids.
"My sophomore year was the first year I went. I went because I was super stressed out and in a last ditch effort to get a break I decided to go; best choice I've ever made," said Raabia Sheikh, senior and director of snowball. "Not only did I feel all the weight of my shoulders disappear for a little, but I found a different side of myself and came back ready to take on the rest of the semester. I've been involved with Snowball ever since."
Each student will be assigned a group, which includes a leader, and a volunteer. These groups are made in order for students to do different activities at different times. People from Central and South will both be mixing into these groups.
"I heard a lot of hype about it from Raabia [Sheikh]. She explained how it's such an amazing experience. People said you get to meet new people and find a better point of view of yourself," said Aliza Daud, senior.
Students from previous years have mentioned that this program might have been their favorite part of high school. It encourages students to make new friends in their cabins, as well as get to know students from the other school.
"Last year they had many activities with small and big groups and you got to meet new people. There was a lot of team bonding as well," said Kiswa Malik, junior.
The fees for this trip were due just last week. It costs $124 for the entire trip, including multiple meals per day, along with other snacks as well. Students are encouraged to bring their own bed sheets for the bunk beds since they won't be provided by the school. If you weren't able to join this year, you can still try to attend their meetings so that you can go next year.
Leave a Comment
About the Contributor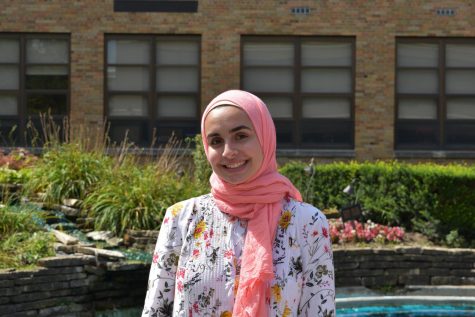 Masah Mourad, Section Editor



Masah Mourad is a senior that loves to eat fries. She enjoys many activities such as traveling, painting, and hanging out with her friends. When...