NHS hosts annual Halloween bake sale
As Halloween rolled around this Wednesday, Oct. 31, so too did the pronounced National Honors Society annual Halloween bake sale. If you were at school, it was hard to miss it. Students lined up near all the points of entry into the building and cluttered in teams right outside the cafeteria, impassioned to raise money for charity.
The bake sale began at 7 a.m. and continued until the bell as each team worked to sell as much as they could. While it may seem like a basic fundraising tactic, the NHS annual bake sale has proven to be very successful in raising money. This year the bake sale raised $1932.95, which went to the Just1Mike Foundation, a charity foundation created in memory of former Central student, Michael Brindley.
"The school has closely worked with Just1Mike since it first started, especially since it began as a way to commemorate a Central student," said Omar Shaikh, NHS co-president. "Mrs. Janicek, Luca [Ripani], and I attended a fundraiser meeting where we met with the founders of the organization, and there we learned the benefits of donating to a cause that raises awareness about teenage cardiac health."
Many NHS teams partook in the bake sale which fulfilled their quota to participate in two of the three major NHS projects throughout the year in order to main active status. Seniors participating were able to receive volunteer hours for the time they spent baking, preparing, and selling at the bake sale.
"I think that the [bake sale] went really well," said Natalija Lakic, senior. "It was a great experience and it allowed me to get to know my group members better. We all had a fun time baking and it was a stress reliever from college apps. It took a good four hours since we did make it from scratch."
To provide incentives for selling, NHS awarded the teams for different categories such as tastiest treat, best overall presentation, most money raised, best costumes and many others.
The NHS sponsors, Mrs. Janicek and Mrs. Chandler, had the goal of surpassing the amount of money raised last year which was $1250 donated to the Anthony Rizzo foundation. The sponsors also advised students with strategies to raise more money such as selling during class and traveling through the hallways in the morning to get more buyers.
"We had a record number of participants this year: 23 out of 24 teams partook in the event," said Mrs. Chandler, NHS sponsor. "In addition, our kids did an amazing job demonstrating creativity with their displays and presentations."
On Thursday, Nov. 8 there will be an NHS meeting where team leaders will talk about the ideas they have for upcoming projects, where they will decide what those projects will be.
Leave a Comment
About the Contributor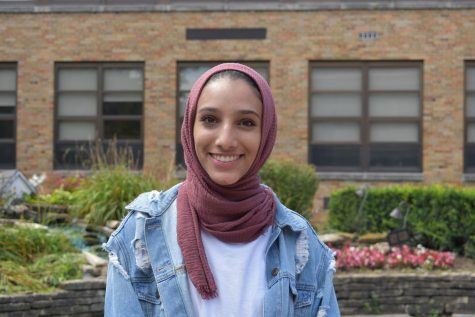 Hajera Naveed, Section Editor
Hajera Naveed is a Senior Writer and Section Editor for Devils' Advocate. Her hobbies include writing, volunteering, painting, and running. When she isn't...