D86 School Board addresses necessary budget cuts
The District 86 school board held a special meeting on Monday, Dec. 10 at 6:00 p.m. at Hinsdale South's cafeteria to address issues regarding the potential budget cuts following the failure of the $166 million Nov. 6 referendum, and had new policies to approve.
Among the decisions at the meeting to vote on, the board agreed to vote on the elimination of four administrator and five educational support positions as well as all music tutors. They will also freeze the remaining administrators' and non-unionized support staff salaries. These decisions would save about $1.09 million a year. District officials have listed $42 million worth of necessary projects that need to be done in the next few years in order to keep up with the state regulations.
The board indicated that they are going to be cutting about 20 percent from co-curriculars, which are athletics and extracurricular activities, like clubs. This would take $1 million out of the $5 million it costs to run both. Board member Mr. Keith Chval said during the meeting that he was prepared to cut all activities and clubs. Board member Mr. Kevin Camden agreed but would include all athletics, to make it more fair.
A potential issue the board is anticipating with cutting certain sports is that the district could be violating Title IX rules, which "requires that women and men be provided equitable opportunities to participate in sports. Title IX does not require institutions to offer identical sports but an equal opportunity to play."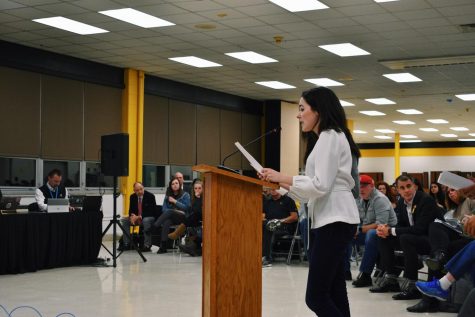 The packed cafeteria was standing room only. The meeting began with the board adjourning to a closed session for 30 minutes. When they reconvened for an open session they began audience communication, which allowed members of the audience to speak in front of the board, sharing their grievances and concerns. The audience communication section was only supposed to last one hour, with about 50 people signed up to speak. However, Board President Mr. Bill Carpenter decided to extend the audience communication portion for another hour, allowing all 50 people the chance to speak.
Many speakers urged the board to put another referendum on the upcoming April 2 ballot, with some wanting the same $166 million referendum and others wanting a reduced one. The board would need to make that decision by Monday, Jan. 14.
"Our facilities are failing, but our people are not. It is impossible to sail with broken ships. Let's not let these ships take our district down," said Corey Houth, a district 86 parent.
Some student swimmers and parents came to the meeting to express their opinion that the cost of fixing the pools should stay as part of the potential April referendum.
"The captain of the [Central's] boy's swim team reached out to me through our coach and made a really good point that the more of us that come [to the board meeting], the more of an impact is made," said Maggie Dunford, a senior girls varsity swimmer at South.
Some speakers spoke to the board about them potentially getting rid of P.E. exemptions for certain athletes, and about 20 students spoke in response to the board talking about limiting electives and cutting teachers. A few teachers spoke about not increasing class sizes or going towards a division head model, which would eliminate department chair positions in each department.
"If we move to a division model…as an administrator that would become a problem because they would have a lot of teachers they would have to deal with and a lot of situations they wouldn't have the time to work through," said Mr. Marvin Breig, a science teacher at Central. "In my 31 years of teaching here at district 86, by far my two biggest influences on my career have been my two department chairs."
All seven members on the school board agreed in theory to a division head model, which would have one department chair for a subject across both South and Central in order to make things more equitable, a big issue between the schools. However the board said that it felt that it didn't have enough research or evidence about what the division head model would do to the schools or teachers so they are going to make that decision later. The board decided to try and not do anything that could affect a student's education. They declined to increase class sizes in any way that would impact the amount of teachers that would be fired, which would have saved at a maximum around $2.35 million.
The board was also ready to eliminate early morning and after-school buses that take students to early bird classes and after school activities. They also would combine two bus routes that would take both South and Central students to the Technology Center of DuPage. Some board members suggested cutting the buses all together in order to save at the maximum $237,294. They also suggested that if students want to take a bus, they could pay a certain amount of money. This would help reduce bus routes and drivers as students would get an alternative way to go to school, thus saving money. The board wanted more information about the cost of going this route so they postponed a decision about the general busing to and from school.
To watch a video of the board meeting please go here. The next board meeting will be at the transition center on Dec. 17 at 6:00 p.m.
Leave a Comment
About the Writer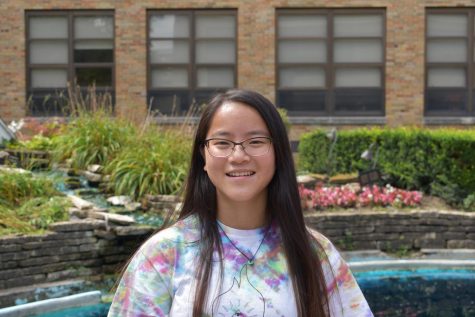 Lia Reichmann, Editor-in-Chief
Lia Reichmann, senior, is well versed in anything to do with Friends, Harry Potter, and sports. She likes to go backpacking and taking photos (follow @liareichmann_photography...