United Club honors Black History Month
Friday, Feb. 1 marked the beginning of Black History Month, a month dedicated to celebrating the culture and impact of Black Americans. At Central, the United Club has planned several events scattered throughout February to honor Black history.
This month marks the thirteenth year that Central will celebrate Black History Month. The celebration was started by recently retired teacher, Mrs. Deborah Powell, who saw that there was a need for inclusion and perspective in the Red Devil student culture.
A great @RedDevilSpirit morning on campus as we celebrate Black History Month with poetry readings, @HCHSPTO hot chocolate to warm our spirit and some @HCBandDirector music by our Ss. pic.twitter.com/f50c21Y98c

— Hinsdale Central HS (@ThisIsHCHS) February 8, 2019
"It's important to celebrate Black History Month because so much of our history is based on slavery and discrimination, but through this month, we are able to see some of the positive aspects like the people who helped fight for the rights we have today," said Lela Mathew, junior and co-president of United Club.
The month kicked off with the third annual poster competition that is open to any class. Classes that choose to participate have until Tuesday, Feb. 26 to make a poster to feature the U.S. Civil Rights Movement from the 1950s to the 1970s. This theme is in honor of the guest speaker, Carlotta Walls LaNier, who will come to Central on Friday, Feb. 15.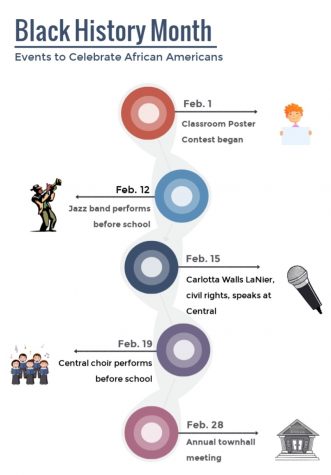 LaNier is a civil rights activist and most commonly known for being the youngest member of the Little Rock Nine in 1957. The Little Rock Nine was a group of nine Black high school students who enrolled into Little Rock Central High School but were banned from entering the high school by the Arkansas National Guard. However, in 1954, a Supreme Court case had ruled segregation in public schools unconstitutional, and as a result, the federal National Guard escorted Little Rock Nine during the school day. Although the National Guard was there to escort the nine high schoolers, each of them faced harassment and even violence.
"I think we are so lucky to have the opportunity to listen to someone like LaNier who played a significant and influential role in American history," said Molly Bruns, junior.
LaNier lived through the entire civil rights movement and worked with several notable civil rights activists.
"We have a lot of questions about race here and I think it's valuable for kids to be able to ask [LaNier] questions about what it was like and what it's like now and if she's seen a difference," said Mrs. Lynn Gronewold, sponsor of United Club.
Other events of this month include the performances of both a jazz band and Central's choirs, as well as the annual town hall meeting on Thursday, Feb. 28, when each History or English class discusses issues about race and reflect on Black History Month with other students in the library.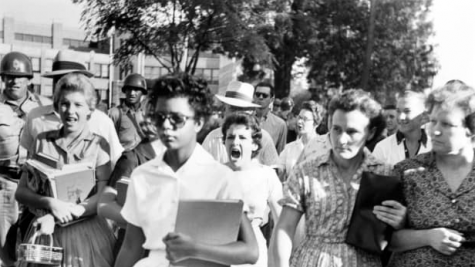 "The town hall is an open area where you can go amongst friends comfortably and ask questions, get answers to it, and put out what you're feeling, and what you're thinking. It's been really successful in the past and students have found a lot of value in it," Gronewold said.
Another event this month is a Poetry Slam before school on Friday, Feb. 8. The Poetry Club members will recite poems from Black poets or self-written pieces. Additionally, Gronewold said that on Fridays throughout the month the school will play historically significant music, ranging from Jazz to Hip-Hop. Also, on scattered days throughout February, the cafeteria will serve soul food.
"I am excited for these events and I'm especially looking forward to the poetry event," said Catherine Collins, junior and co-president of United Club.
You can learn more about the significance of Black History Month here.
Leave a Comment
About the Contributor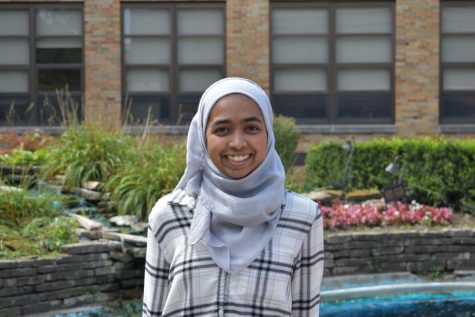 Saba Ali, Editor-in-Chief
Saba, senior, is a chocolate vacuum (basically eating any chocolate in sight) and a nap queen, who can take a nap virtually anywhere. She loves Ben &...