Singing Valentines take over Central once again
Valentine's Day is on Thursday, Feb. 14, meaning that choir students will soon be delivering Singing Valentines to serenade students. Musical student groups put together a 30-45 second performance, often consisting of a mash of love songs, and perform it for recipients on Valentine's Day during all class periods.
From Monday, Feb 11 to Tuesday, Feb. 12, a Singing Valentine students can buy a singing gram during all lunch periods for $3 if they wish to have a special someone serenaded during a class of their choosing. Students have the option to opt-out of the possibility of receiving one by emailing Mrs. Jennifer Burkemper, choir director by Tuesday, Feb. 12.
Singing Valentines began about ten years ago, and was introduced to Mrs. Jennifer Burkemper, choir director, by students at a past high school. She decided to give it a try at Central and soon discovered how successful it was.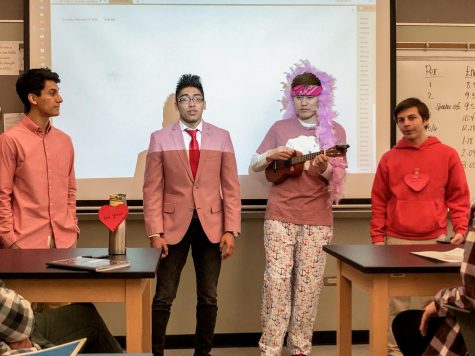 This year's delivery will be slightly different because singers will deliver Valentines without the decorated chair. This means that the serenading will be done from the recipient's desk. Before, students would sit on a chair decorated by the performing groups and be serenaded at the front of the classroom. Choir will then gather student feedback and see if they plan to modify or bring back the chairs for next year. Besides the elimination of the chair, everything else remains the same as the previous years.
"We want to take the social pressure off of students that enjoy receiving a Valentine but do not want to walk up in front of the class and directly be serenaded," Burkemper said.
Performing groups register and audition a month in advance, and Mrs. Burkemper then double checks and organizes the valentines digitally. Students organize and bundle the paper valentines the day before they deliver them.
"Preparation is really fun but stressful so first we have to pick a group of three to five people, and then we have two weeks to prep an acapella arrangement of love songs," said Masa Najjar, senior, who will be singing a mashup of "Love Story" by Taylor Swift and "DJ Got Us Fallin' in Love" by Usher with her group. "We get to pick the songs which is really cool because every group can have a different style."
Chamber Choir is required to participate but students in Chorale and upperclassmen in HC Singers can audition to participate.
"Groups do all the preparation work themselves, picking songs, making harmonies, making dances and costumes, but it is all screened by [Mrs. Burkemper]," said Tim Moser, senior, who's performing "As She's Walking Away" by Zac Brown Band. "My favorite part last year was being able to serenade people up close and have fun with the people who got the valentine."
Singing Valentines are AMAZING! @HCBandDirector @RedDevilSpirit pic.twitter.com/COi1EFsj3o

— HCActivities (@HCHSActivities) February 14, 2019
A third of proceeds made from all the singing valentines go to the National Honor Society, and a large portion of the remaining proceeds go to Chicago area community schools of music where students don't have monetary access for music or lessons.

"I am always grateful for the support given to the choir program by our administration, faculty, and staff for this event. We hope to continue this tradition as long as it remains a positive, uplifting experience," Burkemper said.
Leave a Comment
About the Writer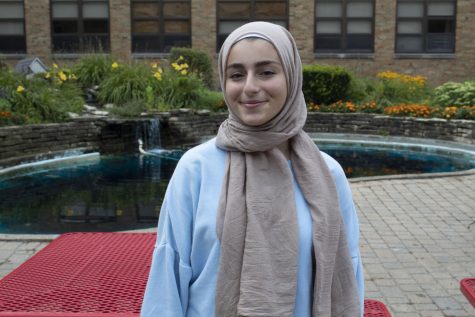 Lana Jawich, Section Editor
Lana Jawich is a senior writer for Devils' Advocate who enjoys painting and playing soccer. When she's not annoying her siblings or spacing out in physics,...