Superintendent Dr. Bruce Law resigns, Tammy Prentiss to replace him
Board President Bill Carpenter announced at a regular action board meeting on Feb. 19, that District 86 Superintendent Dr. Bruce Law will resign on June 30. At the March 4 board meeting, the board recommended Ms. Tammy Prentiss, the current Assistant Superintendent for Student Services, to be the next Superintendent.
Law has been appointed as Township High School District 113's new Superintendent. District 113 is comprised of Highland Park High School and Deerfield High School.
"While we congratulate Dr. Law on this new opportunity and wish him the very best, we are of course sad to see him go," Carpenter said in the official announcement. "We thank Dr. Law for all his hard work and all he has accomplished to extend the tradition of excellence in District 86."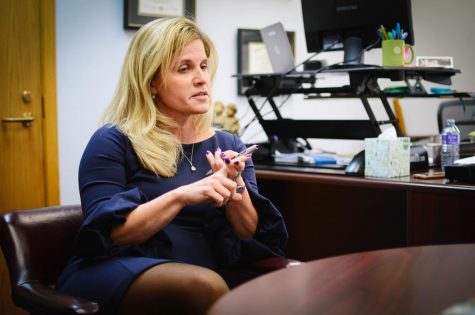 Law has been Superintendent since August of 2013. Before that, he had served as District 86's Assistant Superintendent of Instruction since 2010.
"Working with teachers and administrators in figuring out ways to improve things for student [has been a great experience]," Law said. "There is nothing like working with a lot of adults whose only concern is how can we do something better for students and what can we do to make it better for students."
Law said he hopes he will be remembered for programs that have focused on trying to improve students' well-being, such as social-emotional learning programs and the mood meter.
"Dr. Law has been an advocate for all students. He thinks a lot about how schools serve all students – not just those for whom school is easy and natural," said Mr. David Lange, English Department Chair. "Dr. Law has always been an advocate of teachers in District 86. He truly believes in the creativity and skill and hard work of teachers."
Not everything has been a smooth and easy journey for Law. One of the hardships he faced was when he was initially named Superintendent in 2013. He said that he wasn't expecting to become superintendent, and in 2013 when it happened, many people left the district. Law said he was concerned about District 86's unclear future when he became superintendent.
"The other biggest disappointment was the failure of the referendum of November 2018," Law said. "The reason I say that is [because while] we are great schools, there is everything here to be even greater. The only thing I think that is holding District 86 back is the facilities and I don't understand why in a community that takes such pride in its schools and in a community where the schools are really the jewel of the community, why the community would not be supporting these schools."
However, Law said he does not believe that his resignation will affect the outcome of the April 2 referendum vote. In his last few months, Law will try to educate the community about the referendum vote, and is helping Ms. Prentiss prepare to be the next superintendent.
"As a Board, we believe the best person to lead the District through these challenges and who has the experience in District 86 to provide that continuity and stability is Tammy Prentiss and she demonstrated the ability to manage and to lead," Carpenter said.
Law's advice to Ms. Prentiss was to "trust the people [teachers and administrators] who are here and responsible for making this place so great." He also said that she should "listen to them" and have "confidence in them."
Ms. Prentiss has been Assistant Superintendent for Student Services since 2014. She will be the first female Superintendent in District 86 history and said she hopes to show female teachers that being a superintendent is an accessible option for them.
"[I am looking forward to] providing resources and an avenue to really realize all those parts that were identified in our strategic plan [that was passed as a district last school year]," Ms. Prentiss said. "I'm also looking forward to working with the board to really make sure we have systems and resources and opportunities for all students to realize the path that they want to take."
Law's duties for District 113 will begin on July 1. Ms. Prentiss will assume her new role on July 1.
Leave a Comment
About the Contributors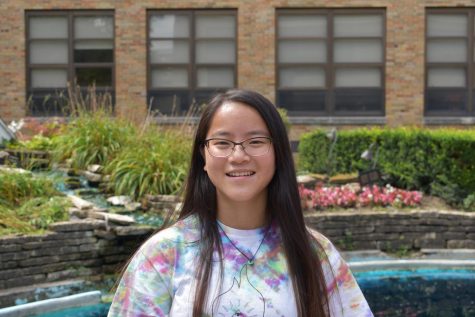 Lia Reichmann, Editor-in-Chief
Lia Reichmann, senior, is well versed in anything to do with Friends, Harry Potter, and sports. She likes to go backpacking and taking photos (follow @liareichmann_photography...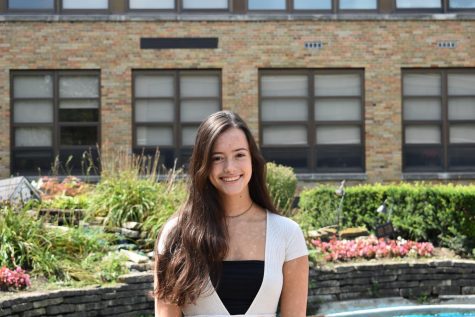 Marelena Halikias, Photographer
Marelena Halikias is a senior photographer for Devils' Advocate. She can commonly be found crying over reruns of The Joy of Painting, offering to sell...