Peer Buddies and Boys' Volleyball raises money for Walk the Walk
Last spring after the Boys' Volleyball Team joined the Peer Buddies group for the Walk the Walk for Autism, Peer Buddies Coach Kelly Watson didn't expect a call from Volleyball Coach Stephanie Kaegebein and Volleyball Captain Bryce Bernard. The volleyball team wanted to team up again with Peer Buddies to raise money for the Walk the Walk for Autism.
This year, the volleyball team and Peer Buddies joined together to fundraise. In addition to the whole program signing up and donating for the walk, the volleyball team helped with selling raffle tickets during lunch periods and on the night of their volleyball game against Wheaton Warrenville South High School on April 11.
"The rival team and our team wore blue to the game to support the Walk to Walk and autism research," Watson said. "The Girls' Badminton Team had to cancel their practice so we could use the main gym but their coach asked them to come to the game as a team bonding again, so it was a good turnout."
The teams raised about $3,000 through the raffle and donations. This was the first fundraiser for the Walk the Walk and both activities said they hope that it grows in the fundraiser.
"I hope that we continue to bring in more members of the community to our future Walk the Walk/ Peer Buddy's night so that we can continue to raise awareness and help bring in donations for the Community House," Kaegebein said. "We are also very appreciative of the girls' badminton program to come cheer us on during the event; we hope that more teams continue to come in future years."
The coaches said they hope that next year, during half-time at the Peer Buddies' event, the Central peer buddies team will play a volleyball game against the other peer buddies team. Watson says in the future, it would be nice for other teams and students to support Peer Buddies by showing up to events or joining the group in the Walk for Walk next year.
Leave a Comment
About the Contributor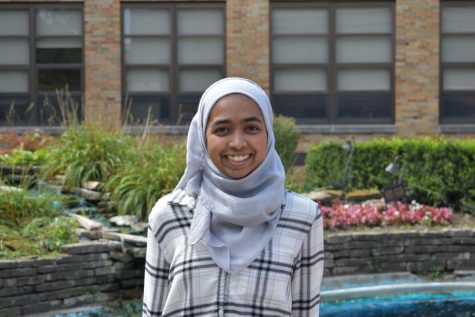 Saba Ali, Editor-in-Chief
Saba, senior, is a chocolate vacuum (basically eating any chocolate in sight) and a nap queen, who can take a nap virtually anywhere. She loves Ben &...