BPA team goes to Nationals
On May 1 through May 5, the Business Professionals of America (BPA) team went to the National Leadership Conference in Anaheim, California. In order to qualify for nationals, a student had to be in the top five for their event at regionals and state.
Eleven students from Central went to nationals, while more qualified but didn't attend because of the senior prom held on Saturday, May 4.
The opening ceremony was on the evening of Wednesday, May 1, where Kevin Allen, founder of E.I. Games, gave a speech about pursuing your dreams. Central students left the event on Friday, May 3, before the closing ceremony that takes place on Saturday, in order to attend prom.
There were many different events ranging from group to individual events to digital events like fundamental desktop publishing. For the event on fundamental desktop publishing, a student usually will be given three or four tasks that they have to finish in the hour and a half time slot. Students may have to create a logo and try to create promotional items like pamphlets, gift cards, and brochures.
"I compete in fundamental desktop publishing, which is a design event," said Aliza Panjwani, senior and BPA President. "The goal [of the event] is to use software to make your documents visually appealing, while still having the constraints of having to use the images they give us and not being able to use templates."
At the competition, students were given a rubric in order to know what to focus on. The rubric has specific goals that a student must complete like using a slogan as well as more subjective goals like make it aesthetically pleasing.
"The experience of going to California with the BPA team and seeing attractions I had never been to before was [more] memorable than the conference itself, and I greatly enjoyed myself," Panjwani said.
Jackie Dorsett, senior and BPA officer, competed in the advanced word processing and integrated office applications events. For advanced word processing, she had to create a works-cited page, a letter, a news release, and a table. For integrated office applications, she had to format an agenda on a word processing page, create a powerpoint and database.
"It was so much more fun this year because I was an officer," Dorsett said. "[As an officer] I helped run the club with six other officers and we were in charge of the attendance, creating powerpoints for the meetings, mentoring our own group of BPA members, and organizing the service events. I was also really sad since it is my last year in the club but I was happy to have made it to nationals one last time."
Scores have yet to be released.
"I think I placed at least top 50. The [events] were a lot easier than I expected and I felt really prepared from competing at both regionals and state," Dorsett said.
While in Anaheim for the competition, the BPA team also had the opportunity to visit local sites and attractions, such as Disneyland Park.
"[I enjoyed the] part of the trip [when I went] to Disney and [explored] Anaheim with friends," said Julia Cashman, sophomore. "The first night some people and I tried trading the Illinois pins we got with other states to get as many different pins as possible which was really enjoyable."
BPA had their last meeting on Wednesday, May 8 to recap the season. If you want to join BPA you can reach out to club sponsors Mr. John Madden or Mrs. Ashley Malleris. There will also be informational meetings at the beginning of next year.
Leave a Comment
About the Contributor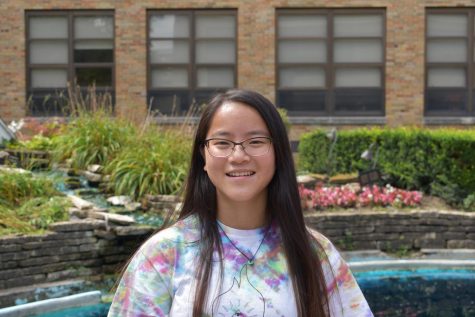 Lia Reichmann, Editor-in-Chief
Lia Reichmann, senior, is well versed in anything to do with Friends, Harry Potter, and sports. She likes to go backpacking and taking photos (follow @liareichmann_photography...