Students learn how to counteract shooters with ALICE training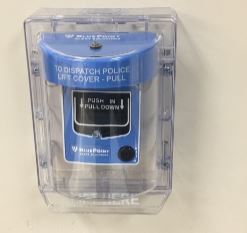 Students attended ALICE training on Sept. 11 to learn what to do in the event of a shooting, and the new protocols for responding to a shooter.
ALICE training is a new protocol at the school where students actively respond in shooting events. Previously, students would take shelter in whatever room they were in. Now, students can evacuate the building if it's safe, barricade the doors and fight back against the shooter as a last resort.
"I learned how the school plans to counteract shooters," said Nicky Weller, sophomore.
ALICE stands for alert, lockdown, inform, counter and evacuate. Students were told that they should alert people, if they know there is a shooter in the building. They were also told that if they were near an exit, and it was safe to leave, that they should evacuate.
"I think [ALICE training] follows common sense, and basically what you would normally do in that situation," said Veylin Aumar, sophomore. "I think there's some more that they could do, but I don't think it's that consistent."
The goal of ALICE training is to keep students safe in the event of a shooting. According to BBC, 113 people were killed or injured from school shootings in 2018 at the time the article was published on December 12, 2018. A database from the Federal Emergency Management Agency and the U.S. Center for Homeland Defense and Security said that 2018 had the highest number of school shootings.
ALICE training is one of a few new security measures, such as more security staff and cameras being active longer. Many schools around the U.S. are implementing ALICE training after the increased amount of shootings.
"I think students now know that they have more than one option," said Michael Coughlin, a security officer at the school.
Some people are critical of ALICE training, saying that it causes unnecessary anxiety, as very few people will be put in this situation. Lockdown drills have occurred in 95 percent of schools, however less than one in a million students will be placed in this situation, according to the National Center for Education statistics. Others say that it's necessary, for those that are put in that situation.
It has yet to be seen whether or not ALICE training is more effective, and keeps kids safer than the previous lockdown drills. However, ALICE training has been used before in an active shooting situation, and no students received critical injuries while evacuating, and no staff members were injured when countering the shooter. Only one victim received critical injuries.
The school plans on continuing ALICE training in future years by introducing it to freshmen and having sophomores, juniors and seniors review it.
Leave a Comment