Central's band sets the tempo for middle schoolers at Bandamonium
On Friday, Oct. 18 at 6:30 p.m., middle schools feeding into Hinsdale Central performed with Central's band in the gymnasium for the annual Bandamonium event.
Bands from Westview Hills, Butler, Hinsdale Middle School, and Clarendon Hills Middle School were invited to come to Central to rehearse, learn, and perform musical pieces with high school students to introduce middle schoolers to Central's band program.
Each middle school performed a prepared piece in front of the other bands, giving the middle schoolers an opportunity to showcase their talents, learn from others, get acquainted with Central's bands, and have fun. After the middle schools performed their individual pieces, they came together to perform with Central's bands in pieces prepared by both the high schoolers and middle schoolers, "Handclap," by Fitz and the Tantrums, and "Red Devils," Central's fight song.
In between performances by the middle schools, Central's Wind Ensemble, Symphonic Band, Jazz Band, and Jazz Ensemble bands were featured to give the middle schoolers a taste of what band is like in high school. The color guard and drumline also performed while the Central bands were playing their repertoires of musical selections.
"After all the performances, we [Wind Ensemble] march out and play two pieces with the entirety of the Central bands and all of the middle schoolers," said Marcos Lopez, senior trombone player and member of Wind Ensemble.
Performing wasn't the only focus of the evening. Middle schoolers were given the opportunity to build relationships with Central's band members as they enjoyed a dinner together and heard speeches from high schoolers before the performance.
Bandamonium has been a tradition at Central for several years. It was created to give the middle schoolers a chance to play and learn from each other, and to give them a sneak peek at high school band.
"We created it because it is a nice recruiting event for the middle schoolers where we get to show off what we do," said Mr. Matthew Goeke, band director.
The bands prepared for Bandamonium for several months leading up to the performance. The joint piece with the middle schoolers was selected last spring, and Central's bands began preparing their individual pieces at the beginning of this school year. Extra dress rehearsals with the middle schoolers were assigned as the performance approached, to ensure that the show ran smoothly—and it did.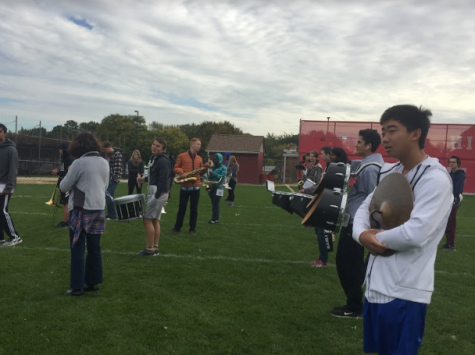 Musicians and audience members alike enjoyed how hundreds of students from different schools, backgrounds, and musical training came together to create some impressive sounds.
"I really liked how there were so many musicians playing," said Rei Hemmer, junior clarinet player and member of Central's band. "It was really cool to listen to the way the sound filled the entire gym, it made you feel like you were apart of something bigger."
The performance was a pleasant experience for all musicians, as many appreciated the opportunity to perform for and with the middle schoolers. It was especially enjoyable for seniors, who were given the last chance to display their leadership qualities and teach younger musicians.
"The experience felt very 'full-circle' because I remember being a sixth-grader and playing with the high schoolers, thinking how cool it was to be playing with them," Lopez said.
The upcoming band performances are this Friday, Oct. 25 at 7:30 p.m. at the Lyons Township game, and Tuesday, Oct. 29 at 6:30 p.m. in Aurora, Ill. You can find other information on Central's band program on its website.
Leave a Comment
About the Contributors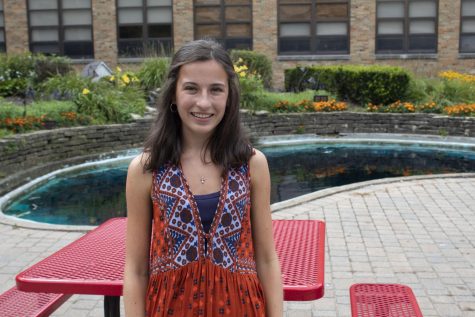 Olivia Ostrowski, Editor-In-Chief
Olivia, a senior, is excited to be apart of the Devils' Advocate team. She loves playing tennis and lacrosse, and competes in these sports at Central....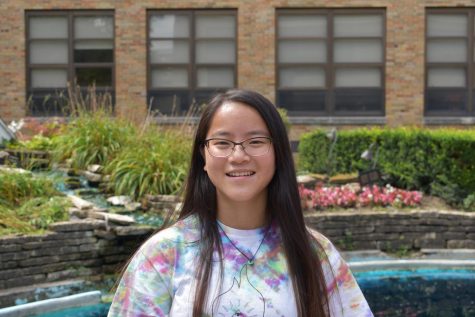 Lia Reichmann, Editor-in-Chief
Lia Reichmann, senior, is well versed in anything to do with Friends, Harry Potter, and sports. She likes to go backpacking and taking photos (follow @liareichmann_photography...