Central staff participates in chili and brownie bake-off
On Friday, Nov. 8, the staff at Hinsdale Central hosted their annual chili and brownie bake-off during all lunch periods in The Community Room. The competition is held annually in anticipation of American Education Week, in order to boost morale amongst the staff. The contest was created as a fun break from the stresses of grading and preparing for the end of the semester.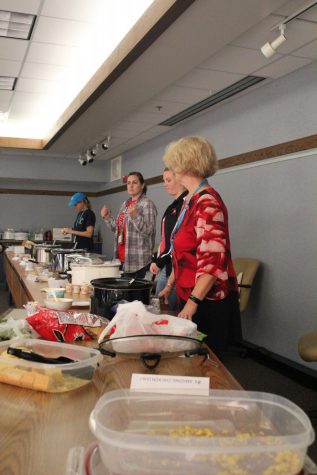 Each year, a number of staff members volunteer to cook chili and bake brownies to be taste-tested by the rest of the employees in the building. After the staff tastes each option, they vote for their favorite respective food. The top three out of each category are acknowledged, however only the first-place winners receive a plaque with their names on it.
Each cook has to creatively name their product, which is often a long-held family recipe. The names are displayed in front of the food, however, the cook's identities are kept anonymous until the winners are announced, in order to prevent bias.
The chili winners were physical education teacher Lisa Tazelar's "Amazing Chicken Chili" in first place, security guard Geoff Cooker's "Bloody Mary Chili" in second place, and department secretary Pat Zipsie's "Best Chili You'll Ever Stick…" in third place.
Spanish teacher Sally Belter won first place in brownies with her "Carmelitas", with math teacher Kathy Giles's "Oreo Cookies and Creme Fudge Brownies" in second, and administrative assistant Tricia McIlwee's "Mint Chocolate Chip Brownies" in third.
"This is my first year working in the district, and I wanted to get involved in the events they have here," Cooker said, runner-up for chili.
Chemistry teacher Melissa Zinnecker also cooked chili for the event.
"This is my first year baking," Zinnecker said. "I was the only person in the science department to step up, but I really don't mind as I love cooking."
The event started around 2008 or 2009. The Collegiality Committee, a group that creates events to boost spirit, came up with the idea.
Counselor Donna Wheeler organizes the event. Wheeler said that although it's a competition, most people do not take the cooking too seriously.
"It's a good-natured competition," Wheeler said. "It is more about the fun social aspect of it."
American Education Week kicks off next week from Nov. 18 to Nov. 22, with a coffee bar Monday and parent participation day on Tuesday.
Leave a Comment
About the Contributor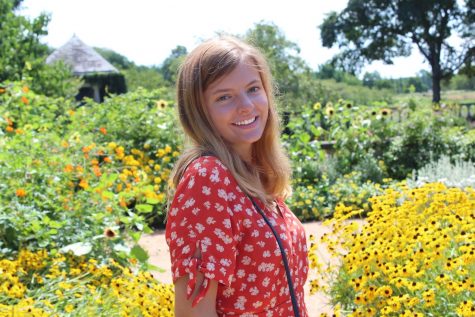 Sophie Burns, Editor-In-Chief




Sophie, a senior, is a second year member of the Devil's Advocate team. At Central, she is a mentor for Business Professionals of America,...