Red and white honors the soldiers who fought for red, white, and blue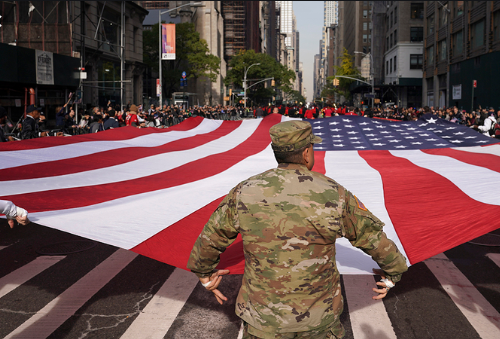 On Monday, Nov. 11, Veteran's Day was celebrated across the country to commemorate the service and sacrifice of former members of the United States Armed Forces.
Parades, flag-raising ceremonies, memorial Masses, and other memorial services were offered throughout the nation over the days leading up to Monday to honor those who fought under the military to preserve the democratic tenets of the United States.
This Veteran's Day was especially memorable as it marked the 100th anniversary of celebrating Veteran's Day. This holiday was first celebrated on November 11, 1919, which marked the one-year anniversary of the armistice that formally ended World War I.
Government departments and programs are not mandated to be closed on Veteran's Day, so many schools choose to make Nov. 11 a regular attendance day. However, schools are encouraged to educate their students on the history and importance of Veteran's Day and to honor those who have served for the U.S. Armed Forces.
Schools across the nation sponsored celebrations that allowed the student body to memorialize and learn about the sacrifice of veterans.
Although Central's observance of Veteran's Day was somewhat limited, with no assemblies or visits from U.S. veterans, it did host a flag-raising ceremony. This event was sponsored by Devils Appreciate Warrior Gratitude Society (DAWGS) club before school on Monday, where approximately 100 students attended to observe the flag being raised in remembrance and honor of veterans. Men's choir also sang the National Anthem during the ceremony.
DAWGS club hosts various fundraisers and functions throughout the year to raise money for military and veteran's organizations. The annual Salute to Service football game in October, supported by DAWGS, invites veterans to Central's Dickinson Field to be honored by the band and football team.
"It means a lot to the veterans who come here," said Mr. Pat Richards, physical education teacher, football coach, and sponsor of DAWGS. "We have World War II veterans come, and we see tears running down their faces during the ceremony."
DAWGS also participates in the Honor Flight memorial, where members of the club greet and shake the hands of veterans returning from memorial services in Washington D.C. at Midway Airport in Chicago.
Many DAWGS members were inspired to join the club as a way to honor and appreciate the sacrifice made by their family members, friends, and all service members in general.
"It's a mixture of kids who feel strongly about the military and what they did for freedom," Richards said.
DAWGS members aren't the only students who have military connections. Many students have grandparents, parents, siblings, and friends who served or are currently serving in the U.S. Armed Forces.
"My family has been serving our country since the Korean War," said Adam Nunez, junior. "I feel like Central does an adequate job in commemorating service members because they honor them every year during the Salute to Service football game and the memorial service on Veteran's Day."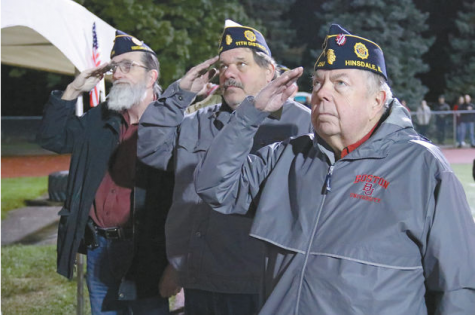 However, some students with connections to the military said they believe that Central doesn't do an effective job of honoring veterans and their sacrifice.
"All of my grandpa's brothers and sisters have been a part of the military in some way or another," said Belle McCarthy, junior. "I don't think [the school does] an adequate job of honoring veterans because they hadn't said anything about it."
Looking forward, some students suggested memorial events to better educate students on the history of the military and the sacrifices they made to secure the blessings of liberty that Americans enjoy.
"In elementary school, we all let balloons loose in the air with notes to veterans on them to honor their service," McCarthy said. "It was really cool, and it stuck with me all these years, so if Central were to do something like that, it will make students that have family in the military feel proud."
Central could follow the example of other schools in the country, which offer a more extensive list of festivities. At Belvidere High School and Belvidere North High School in Belvidere, Ill., various festivities were offered to provide students with the opportunity to learn about Veteran's Day and its significance. Students were able to commemorate veterans through all-school assemblies, patriotic dress-up days, visitations from the U.S. Marine Corps and the U.S. Army, among others.
While there are plaques in the main hallway listing the names of students who served in World War I and II, and the Korean and Vietnam Conflicts, there is no plaque that names all former students who have served in the U.S. Armed Forces.
"They should have a memorial wall honoring all alumni that have served," Nunez said.
If you are interested in learning more about DAWGS and the opportunities they offer for honoring veterans, you can contact Mr. Pat Richards at [email protected].
Leave a Comment
About the Contributor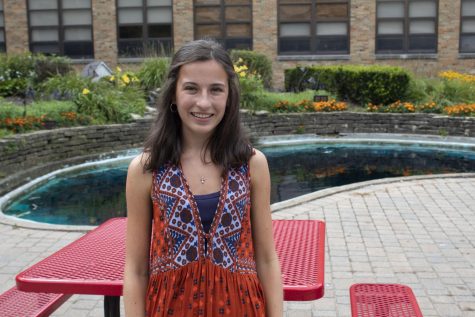 Olivia Ostrowski, Editor-In-Chief
Olivia, a senior, is excited to be apart of the Devils' Advocate team. She loves playing tennis and lacrosse, and competes in these sports at Central....