Central celebrates staff during American Education Week
From Nov. 18 to 22, Central celebrated American Education Week, a nationwide event that celebrates the hard work of the staff in schools.
It's a tradition that goes all the way back to 1921 when the American Legion, U.S. Office of Education, and National Education Association created a plan to educate the illiterate young men who were previously drafted into WWI. The week is now treated as a time to celebrate all of those who put in hard work at schools across the country.
The school celebrated by giving students the opportunity to write kind letters to their teachers, and inviting parents to join their kids at school on Tuesday, Nov. 19. Parents sat alongside their students in class, going with them throughout their entire schedule and seeing what class is like.
"I loved how [my dad] could see how I spend my school days and got to see what I learned," said Kasey Albert, senior. "It was very awesome."
Every day of American Education Week has a theme that spreads positivity to a certain group of educators. Monday was Kickoff Day, which started the week by encouraging staff and students to celebrate public schooling. Tuesday was Parent Day, when parents were invited to accompany their kids at school. Wednesday celebrated the hard work of Education Support Professionals, and Thursday encouraged community leaders to be an Educator for a Day. Friday celebrated the hard work of Substitute Educators.
Staff got an email at the beginning of the week from principal William Walsh to thank them for all they do. They were then treated to a coffee bar on Monday, snacks on Thursday, and breakfast on Friday. Student Council made fortune cookies for staff and delivered them on Monday, and cleaned the café for the Building & Grounds staff on Friday.
"My favorite day this year was Friday," said Mrs. Sally Phillip, director of student activities. "Having the student council kids clean up the café was a special thing…it gave some of the hardest working people in the building a break."
Some students at the school took the time to write letters of appreciation to their teachers.
"I love getting the letters from my students that they write in their classes," said Mr. Brian Griffin, math teacher. "From the serious to the goofy, they all remind me of the importance of making connections in the classroom beyond just teaching math."
The school's PTO is seeking parent volunteers to help with setting up a teacher appreciation breakfast on Thursday, Dec. 12.
Leave a Comment
About the Contributor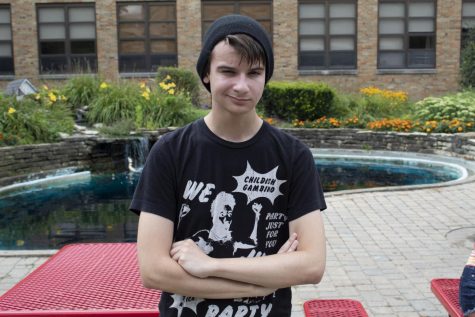 Jack Ging, Writer
Jack Ging is a senior who really enjoys writing and music. He has written hundreds of music reviews and has a YouTube channel with video essays about various...