Chess team bring home eighth place in state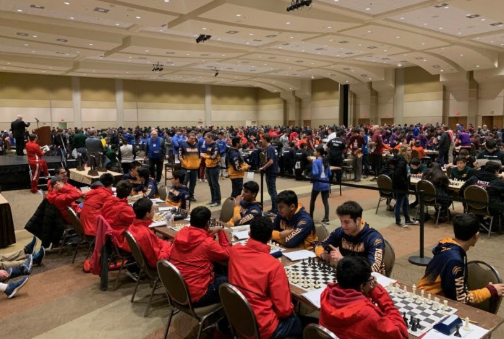 The chess team placed eighth in the IHSA state finals on Friday, Feb. 14 and Saturday, Feb. 15. This was the 15th consecutive year that members of the team, coached by science teachers Mr. Dylan Canavan and Mr. Michael Jazak, attended the state tournament.
The team competed in seven total rounds. Each round was against a different school. They competed against Waukegan, Sandburg, Glenbard West, Walter Payton College Preparatory, Neuqua Valley, and finally Stevenson. The Stevenson Patriots ended up winning the state championship.
"We won our first four matches, after that there were approximately eight teams that had four wins. We played Chicago Payton and we drew them which was very uncommon since there are usually only three or so draws per year for the entire tournament," Canavan said.
During each match, the top eight players on one team go against the top eight players of another team, competing in strength order. According to the 12- point system, if you win, you get 12; if you lose the other team gets 12, and if you draw, each team gets 6.
"[We practiced] twice a week for two hours and had tournaments almost every Saturday," said Jokubas Gucius, senior co-captain.
Decisions on who gets to compete are made using a system where performance in tournaments determines board order; who gets to play depends on the team member's strengths and weaknesses.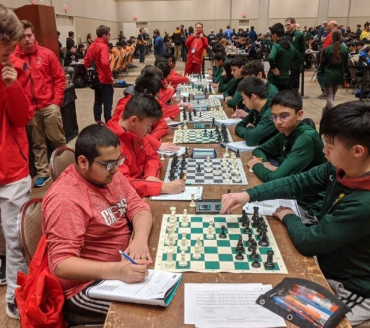 "To get ahead for the game, I used tactics and practice match games and used match analysis which is basically going over the game plan," said Nicholas Pasciak, senior team member.
The team used different strategies to prepare themselves for each match.
"Right before the match, I try to relax myself to prepare and get my mind off the stress," said Ankush Moolky, senior head caption. "I often stare at a computer screen and study all the positions, usually three days before a match."
The team overall had a successful season. They won their sectionals with a 4-round tournament and ended up undefeated.
"We played Neuqua Valley in the final round and we beat them and we played them again in state and beat them," Canavan said.
Last year the team had better luck on the scoreboard in second place at the state tournaments.
"In regards to our performance this year in comparison to last year, we beat better competition this year," Canavan said. "We got a chance to play for the state championship which is all we asked for. If we win we were state champs and if we didn't at least we got to play."
Leave a Comment