Senatorial candidate retracts claims of firearm possession at Central
Peggy Hubbard, Republican senate candidate from Belleville Ill., made claims that she brought a gun and ammunition to the senatorial debate at Hinsdale Central on Thursday, Feb. 13. She later backed away from her previous declaration.
During the debate organized by Student Conservative Organization, Hubbard argued that Central is not a safe school, and the safety precautions taken have simply created a false sense of security.
The following Tuesday, Hubbard alleged at a forum in Washington, Ill. that she walked into "Hillsdale Central" with a concealed weapon. She claimed to have shown her concealed carry permit when she entered the building, but no questions were asked. She used these statements to advocate for metal detectors being placed in school entrances.
Under Illinois and federal law, carrying a firearm, regardless of licensing, is illegal. It is punishable by up to five years in prison and a maximum fine of $5,000.
Similar comments were made in a since-deleted tweet, in which Hubbard wrote that she, "walked in with a weapon and two clips!"
She later retracted her statements, explaining that she "was simply trying to get a rise out of people." She admitted to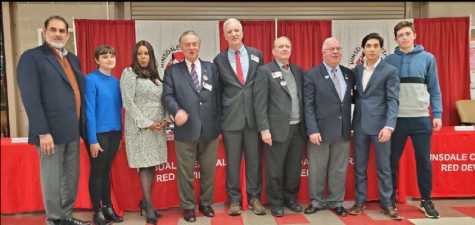 bringing two ammunition magazines in her purse, but her weapon was left in a lockbox in her car. Bringing ammunition into a school is not a federal offense.
Hubbard and her campaign could not be reached for comment.
A Navy veteran and former police officer, Hubbard has expressed her support of the second amendment. According to her campaign website, she "will defend our Second Amendment rights oppose all efforts to infringe on the rights of law-abiding citizens and their ability to protect themselves and their families."
An investigation conducted by Hinsdale Central and the Hinsdale Police found no evidence of a firearm in Hubbard's possession. The investigation has subsequently ended.
"After conducting our own investigation into this situation, which included an extensive review of security camera footage and interviews with staff, we could not substantiate Mrs. Hubbard's claim that she was in possession of a firearm," said a statement by Chris Jasculca, District 86 Director of Communications. "We also could not confirm what form of photo identification her representatives presented on her behalf when she arrived at the building."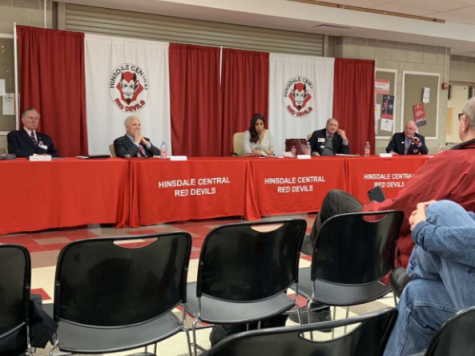 In the statement, which was emailed to students and parents, Jasculca referred to Hubbard's actions as "dangerous and irresponsible."
Junior Student Conservation Organization board member Boone Brackett was reportedly shocked when he received the email from Jasculca.
"[Hubbard] never made any action or comment that made it sound like she was carrying as far as I was aware. All she said was 'this school is not safe from school shooters,'" Brackett said. "My initial reaction after reading the email was 'What? What happened?' I was really confused, I didn't know what happened because the email wasn't super clear about what comments were made by her. I knew there had to be more to the story."
Mikhail Essa, junior Student Conservation Organization president, echoed Brackett's sentiment.
"I was surprised [by Hubbard's comments]. I am just hoping that this situation won't be an obstacle for future events," Essa said. "Regardless, I feel like the school handled it really well and I am glad they always support student engagement whether it be in our club or other clubs."
The reaction to Hubbard's behavior was not positive.
"While I do understand the point she was making, I can't support the act of lying," Essa said. "Honesty and loyalty are two of the most important values [to me]."
Brackett added that Hubbard's actions contributed to his negative view of her as a candidate.
"If you tell a white lie on something as serious as bringing a gun into the school for emphasis in a story, I don't see how that makes you fit for office," Brackett said. "I think it lost her every vote she might've had in the district."
Contacted by Devils' Advocate, Hubbard and her campaign declined to comment.
Hubbard, along with Republican candidates Casey Chlebek, Mark Curran, Robert Marshall, and Tom Tarter, will compete for the senate seat held by Democrat incumbent Dick Durbin on November 3, 2020.
Leave a Comment
About the Contributor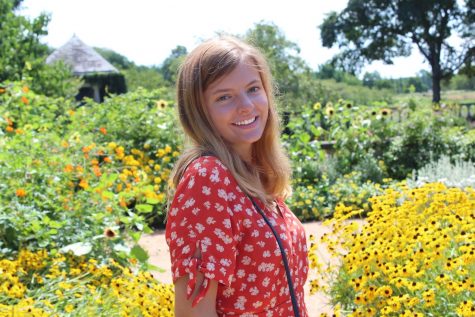 Sophie Burns, Editor-In-Chief




Sophie, a senior, is a second year member of the Devil's Advocate team. At Central, she is a mentor for Business Professionals of America,...