Annual Variety Show showcases students' talent
Hinsdale Central hosted its annual Variety Show on Wednesday, March 11 in the auditorium.
The show, hosted by senior vice president Nick Moawad and senior social chair Alex Ovan, featured 17 acts and multiple skits created by the two hosts. The skits, which were videotaped, were filmed, directed, and edited by senior Daniel Zhang.
"As hosts, we try to make the show run as smoothly as possible," Moawad said. "We created transitions to flow between the acts and videos to add some more entertainment for the audience…We also tried to create an overarching theme for the show, this year's being Saturday Night Live. Our show is titled 'Variety Show Live' and resembles an episode of SNL with bits such as Weekend Update and an opening monologue.'"
The skits and comedic relief in between acts were scripted by the two hosts.
All of the acts had to try out for a spot in the Variety Show.
"The tryout process was very low-key," said Sophie Biancalana, junior. "Mr. and Mrs. Russo are the nicest people you'll ever meet. I walked into the room, had a nice conversation with them, and then sang my song with a karaoke track."
The Variety Show reportedly took months of planning. It was originally scheduled for February but was pushed back until March.
"[Ovan and I] have been working on the show since December trying to get the videos coordinated, completed, and produced," Moawad said. "We also participated in the tryout process, selecting the acts that will be showcased."
The show opened with a filmed Office-themed skit, starring Ovan as Michael, Moawad as Dwight, junior Jimmy Draddy as Jim, and senior Lauren Hughes as Pam.
The first act was a performance by Central band Blue Spring, who sung an original melody of "Jungle Song" and "Today." The band members included seniors George Boddicker, Mia Gaddis, Mitchell Lee, and Luke Moran.
Sophie Biancalana sang "Poetry by Dead Men" by Sara Bareilles next.
"I practiced for about two weeks before tryouts," Biancalana said. "Once I found out I had made the show, I had weekly voice lessons with my voice teacher to improve my performance."
Band Quiller Keen followed, who performed Killer Queen by Queen. Boddicker and Gaddis returned for their second performances, accompanied by senior band members Victor Buccellato, juniors Jackie Buccellato, Cassie Maine and Anya Shah, and freshman Ethan Hallberg.
"We prepared for a few months prior to the performance," Maine said, "We'd rehearse for an hour or two every weekend. The harmonies were probably the hardest to figure out because it's a Queen song and there's so many of them."
Following Quiller Keen, were two covers of ballads by Billie Eilish. Senior Natalie Newmann sang "i love you" followed by freshman Tabi Loera, who sang "idontwannabeyouanymore."
In between the two Eilish covers was another skit by the hosts. Ovan and Moawad rapped "Too Fast", a song about the seniors of Hinsdale Central being fed up.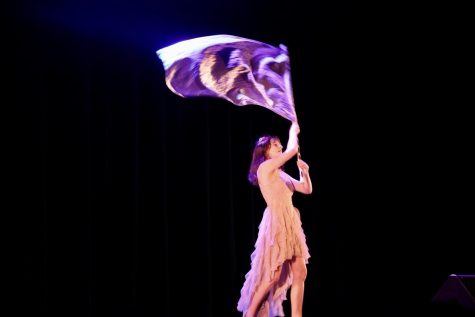 Senior Lillian Niemeyer then performed a Colorguard-inspired dance routine to the song "Fix You" by Vicetone. Senior Grace Deering then performed "Skyscraper" by Demi Lovato.
The second skit, "School Week Update", mirrored SNL's "Weekend Update." The hosts, Moawad and Ovan, discussed "tablegate" at the fall pep rally, coronavirus, changes to the science curriculum, and the supposed increased crime at Hinsdale Central, which included turning left out of the parking lot.
Freshman Leandra Gruft sang "Stone Cold" by Demi Lovato, and junior Jack Doppke played the guitar and sang "Blackbird" by The Beatles.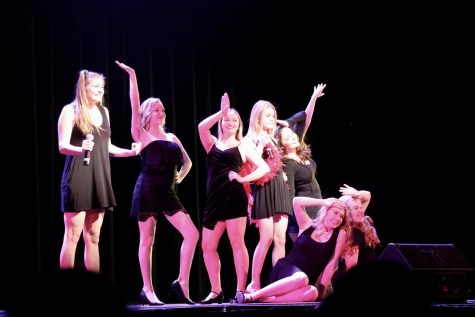 A portion of the cast of Seussical sang "Love Song for Horton #437." Senior Tess Klygis starred as Gertrude and senior Kristin Mertz starred as Mayzie. Seniors Kaitlyn Bergin and Mady Van Houtte joined juniors Hayley Johnson, Alegra Waverly, Grace Gits, and Biancalana, who had performed previously, in the ensemble.
Senior magician Vukasin Pesic, accompanied by his assistant, sophomore Reda Kubaisi, performed three different card tricks with the help of three audience members.
The following skit revolved around the Centraltons: two brothers at Hinsdale Central in the 1930s. The brothers, Ovan and Moawad, were football players who single-handedly defeated Lyons Township in the state championship after the rest of the team came down with polio.
Senior Herbert Wang, "The Rubix Cube Contortionist", solved a Rubix cube in under 60 seconds while in the splits. He was accompanied by his assistant, Hughes, and senior Sachin Advani on the guitar.
Seniors Brynn Kuhlman, Sofia Malamazian, and Olivia Parrillo performed a dance routine, followed by senior Kristin Mertz's second appearance, singing "All I Ask" by Adele.
The show closed with a performance by band Flea Patrol who covered "Snow" by Red Hot Chili Peppers. Victor Buccellato returned for his third performance, accompanied by seniors Jonathan Hernandez and Colin Ratcliff and sophomore Eliot Harris.
The second night of the Variety Show was scheduled for Thursday, March 12, but was canceled due to the closure of Hinsdale Central and South. However, DVDs of the show are available for purchase, and the skits are published on YouTube.
Leave a Comment
About the Contributors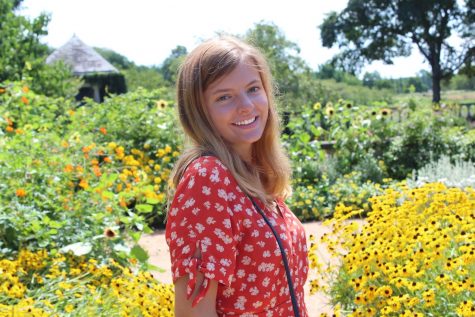 Sophie Burns, Editor-In-Chief




Sophie, a senior, is a second year member of the Devil's Advocate team. At Central, she is a mentor for Business Professionals of America,...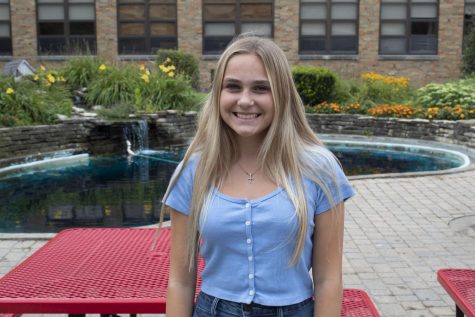 Anna Pellegrino, Writer
Anna Pellegrino is a junior writer who enjoys dancing and going out with her friends. When she's not at Mock Trial practice, you can catch her singing...