Illinois Governor issues shelter-in-place
On Saturday, March 21, Illinois Governor J.B. Pritzker issued a "stay-at-home" order starting at 5 p.m. for the entire state until at least April 7, to attempt to slow the coronavirus's spread and keep citizens safe.
The directive prohibits any gathering larger than 10 people, in keeping with the latest recommendation from the Centers for Disease Control and Prevention (CDC). In-person socializing outside your household is also not recommended, meaning even small parties and casual get-togethers should not take place.
Pritzker talked about how his 'stay-at-home order' decision was based on conversations with "some of the best medical experts, epidemiologists, mathematicians, and modelers," according to the Chicago Tribune.
Though small gatherings aren't recommended, grocery store runs, gas station stops as well as walks are still allowed.
Grocery stores and pharmacies are to remain open. And jobs that "sustain the environment and keep people safe," like plumbers, carpenters, and such on are able to work like normal.
Central's facilities and grounds will be closed, along with other playgrounds and all Chicago Park District facilities. Though people can still enjoy the open spaces as long as they maintain a social distance of six feet.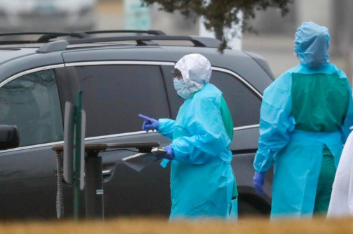 Most residents who have been able to work from home and prevent the spread of Coronavirus through social distancing and hygiene will have no problem adjusting to the governor's latest directive.
The CDC encourages people to stay at least six feet away from others. When washing your hands, wash with warm water and soap for a minimum of 20 seconds.
Though students find this time most difficult to adjust to, many believe it's our only hope.
"I think the shelter-in-place is all we can do to slow down the spread of the virus until a cure or vaccine is found," said Tanvi Singh, senior. "Especially for crowded areas where people don't know if they're spreading the virus or not."
Students in Illinois are to stay home and continue e-learning until April 8. Chicago Public Schools have stated that school will be closed until April 21. According to the Chicago Sun Times, this is to enforce that the virus would not spread in such a large area and crowd of people.
Leave a Comment