Adjusting to COVID-19 regulations at Six Flags
Six Flags Amusement Park's Fright Fest is open this October, despite the COVID-19 pandemic that caused it to miss out on most of its summer season. The popular amusement park is taking many precautions in order to maintain employee and customer safety.
In order to comply with current Illinois health standards, many protocols have been instituted to ensure the safety of guests and staff.
Prior to entering, guests will be asked basic questions to determine if they have come across anyone who does or could have had COVID-19 within the past 14 days. The park will also not allow entry without a mask for anyone over two years of age. Lastly, cash will not be accepted for payment; payment must be made with a card.
Six Flags has been undergoing many precautions to ensure the safety of everyone. This has made people much more comfortable with visiting the park.
"Although I am still a little skeptical of how they are handling it, I would still be willing to because it looks like they are enforcing the right rules," said Josh Salinger, junior.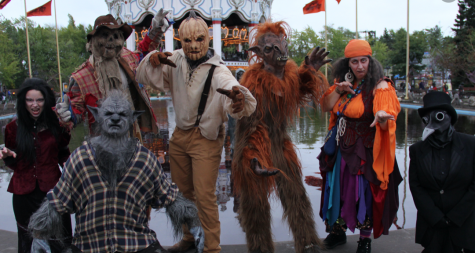 Six Flags is also taking more specific protocols such as taking people's temperature with a non-contact thermometer, controlling daily park capacity and promoting social distancing. They will also be introducing a cleaning team to clean the area, providing sanitizing stations throughout the park, and cleaning all dining areas.
Six Flags assures its customers that they are working to keep the safety of guests in mind.
"The health and safety of our guests is our top priority. We have implemented several measures that you will see in our parks which are each designed to protect Six Flags guests and employees from potential exposure to the COVID-19 virus," according to the Six Flags website. "By minimizing contacts, promoting social distancing, and increasing sanitation throughout the park."
"If you are planning to visit Six Flags anytime soon, you should be relieved to know that they are taking many precautions. From what I read on their website going to fright fest seems like a fun and safe thing to do this Halloween," said Dom Togo, junior.
Leave a Comment