Illinois releases new COVID-19 regulations
With the new spike of COVID-19 cases in the state of Illinois, Governor J.B. Pritzker and the Illinois Department of Public Health (IDPH ) put a new set of COVID-19 procedures and regulations for the public in order to keep everyone in the state of Illinois safe.
The regulations include reimplementing previous ones that were removed and adding more on to them to stop the spread. Governor Pritzker said that the safety of the people in Illinois is dependent on them if they follow the proper rules COVID-19 spreading will drop.
To ensure the safety of the people, the new regulations have been made to cover most scenarios.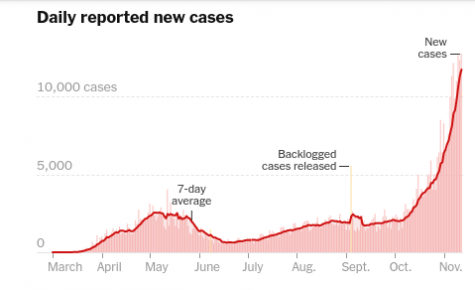 "All customers eating or drinking must be seated at outdoor tables spaced at least six feet apart," stated the Illinois executive order. After restaurants were allowed to have dined in for a few months they are now not allowed to anymore due to the spike in COVID-19 Cases.
"Many people have mixed feelings about this because although it is a pain to follow a lot of these rules it is necessary. I will do what I have to in order to keep me and everyone safe even if it's a little bit of a hassle," said Yann Loges, junior. "For everyone's safety, we have to follow these regulations."
Social distancing has been advised since the beginning of the COVID-19 pandemic and now especially it is being enforced again.
"I have been social distancing and don't plan on stopping until it's safe," said Chris Reyes, junior. "Even though it might be difficult now it will be worth it to keep everyone safe."
If you have any questions about the COVID-19 rules and regulations visit this site right here.
Leave a Comment