Black Friday and Cyber Monday deals
With the recent spike in COVID-19 cases, having a special Black Friday event that would attract a large number of people in one day would negatively affect the health of customers, and would thus be bad for companies. Therefore, Black Friday deals will be going on throughout either the whole month or at least a few days, depending on the store.
There are many different stores handling Black Friday in their own ways. After the new COVID-19 regulations, many stores have reduced their capacities to a quarter of what's usually allowed. Therefore, a traditional Black Friday deal would not work. The main way it will be handled is either with online deals or spreading the days out so people can come anytime throughout a span of a week.
The new operations will be abnormal, but probably more efficient for us.
"I actually like how things are now with Black Friday because I don't have to waste my whole day on Friday. I can choose another day. I'd be more available," said Marco Doyle, junior.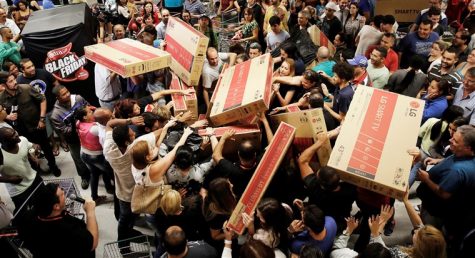 The fact that people can set their schedules around this is not a bad thing for most.
Target announced at the beginning of November that their Black Friday deals will go on through the month and only get better towards the end.
Cyber Monday, like usual, will be primarily online. 
"We will be holding black Friday deals from Friday to Sunday," said popular computer store Micro Center. Cyber Monday will stay as usual with the online deals.
Some people won't even feel the difference between the changes.
"Every year I just use online stores like Amazon to get the prices I like and stay home so this won't is a big change for me," Said Alex Rocque, junior.
Although there will be changes from traditional Black Friday and Cyber Monday sales, shoppers will still have plenty of opportunities to prepare for the holiday season with some great shopping deals. 
Leave a Comment