Governor Pritzker reopens indoor dining in DuPage County
On Tuesday, Jan. 26, Illinois Governor J.B. Pritzker granted permission to restaurants in DuPage County to reopen for indoor dining. Restaurants are required to only seat 25% capacity in their facilities.
Pritzker had been hesitant to reopen indoor dining in previous months, having mentioned that bars and restaurants were remarkably high-risk areas for the transmission of COVID-19. However, the number of confirmed cases in DuPage County have decreased drastically, and vaccinations have slowly begun to be distributed. Considering this recent positive news, citizens and legislators have been hopeful about returning to normalcy in the near future. This has seemed to inspire legislators to cut back on restrictions.
"I am very excited about indoor dining reopening and I hope to be able to experience it soon," said Diana Kubilius, junior. "I am also really excited about indoor dining reopening at my work!"
This reopening was possible because Pritzker recently moved DuPage County into Tier One, which has loosened certain restrictions. Along with the addition of indoor dining, Pritzker announced that up to 25 guests are able to attend social gatherings, sports can take place with masks, and students can continue attending school.
"No matter which region you're in, remember, our progress can be reversed if we're not careful," Pritzker said on Twitter. "Keep masking up and social distancing." 
Pritzker has demonstrated his concern for the pandemic through his tight restrictions across Illinois. In order for these restrictions to be removed, he required that the number of confirmed cases reach a certain number or below. Many counties in Illinois, including Champagne and Iroquois, remain in Phase Four, as they do not yet meet the proper requirements. 
"I think it's important to take as many precautions as possible because the virus is still prevalent in our town. The restaurants should be able to open with limited capacity, because the vaccines are rolling out and cases are dropping in Hinsdale," said Audrey Giltner, senior. "There are so many restaurants that need indoor dining to stay afloat and so many have already closed because of this. As long as we can do it in a safe way, I am definitely in favor of opening restaurants to an extent." 
Although the governor has made it clear that it is necessary to continue taking precautions, such as wearing masks in public areas and following social distancing guidelines, there has been a great decrease in COVID-19 cases and hospitalizations in Illinois. Hospital beds continue to increase in availability and confirmed cases have not been as low as they are today since mid-October. 
Leave a Comment
About the Contributor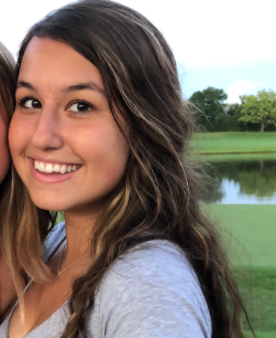 Taylor Fodor, Writer
Taylor Fodor, a senior at Hinsdale Central, is excited to be entering her second year on Devil's Advocate. She is a pommer at Central, and can be found...