Model UN competes at University of Chicago tournament
The University of Chicago's Intercollegiate Model United Nations Conference (ChoMUN) ranks as one of the best in the world and it is almost here. It attracts an average of 3,000 students each year that spectate and participate in it. From Thursday, April 1 through Sunday, April 4, students will represent countries and attempt to solve many issues that will be given to them.
There are many Model UN competitions that take place every year but one thing that distinguishes this one is the emphasis on pedagogy, which is the approach to thinking. This competition will provide acceptable realistic issues that will challenge the students without overwhelming them.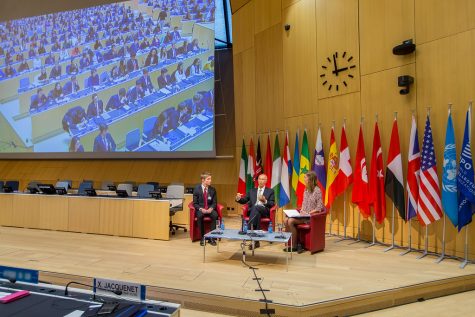 Central students who attend this Model UN always have fun.
"It was a very immersive and captivating experience that I enjoyed very much and would difficulty recommend for people to try it," said Jack Ajora, former Central Model UN participant.
People who have been in this say it's completely different from what you'd expect.
"This is something that interests me but when it started I was very nervous but as it went so did I and I got the hang of it quick," said Anne Blackwell, former Central Model UN Participant.
As one of the most prestigious Model UN competitions, ChoMUN is an event that many students from around the country look forward to.
"Since our first conference in 1998, ChoMUN has grown into the largest and most competitive crisis conference in North America," said Christian E. Metivier, secretary-general of ChoMUN. 
This Model UN has really developed over time.
With its different spin on things and more realistic take, the University of Chicago's Model UN will definitely be interesting and worthwhile.  
Leave a Comment