Chicago's St. Patrick's Day Parade is back
On Sat. March 12, Chicago hosted its annual St. Patrick's Day Parade. The city has been putting on this event since 1843, and it came back for the first time in two years since its cancellations due to COVID-19.
The parade in the Loop started around 12:15 p.m. and had the theme of "Honoring Chicagoland's Essential Workers." The return of this festivity had many Hinsdale Central students excited to attend.
"I was so excited to hear that the parade was finally back," said Selena Ayub, senior. "After two years, life is finally starting to feel more normal again."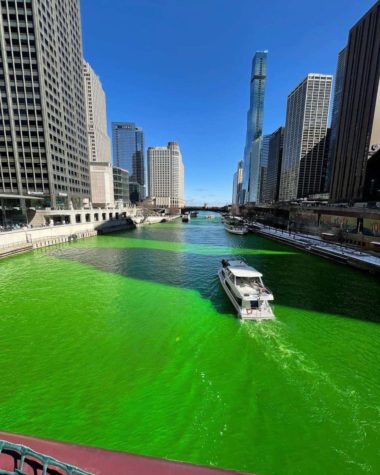 What makes Chicago's St. Patrick's Day Parade different from any other is the dyeing of the river. Every year, roughly 40 pounds of powdered dye is spread by motorboats to turn the river bright green. This tradition disappeared when the pandemic first hit for St. Patrick's Day in 2020. While there was no parade last year, the dyeing of the river still returned for 2021.
"My favorite part of St. Patrick's Day in the city is how cool the river looks," said Jorie Brubaker, junior. "The bright green really gets you in the spirit."
The parade took place on a ten-degree weather day during an otherwise warm week. However, thousands of people still came bundled up in green from head to toe. The party-goers enjoyed performances from multiple marching bands, color guard teams, and more.
"I loved seeing everyone's outfits," said Parker Peterson, senior. "People really went all out and figured out how to stay warm while still being festive."
Other events largely attended in Chicago such as Lollapalooza are on track to be held this year as normal, and many COVID-19 related mandates have been lifted.
Leave a Comment
About the Contributor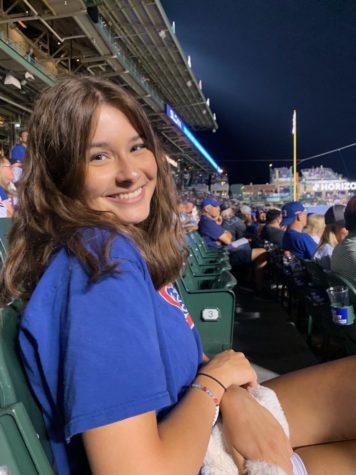 Lily Ging
Lily Ging, senior, is excited to be an Editor-In-Chief for Devil's Advocate this year. She spends most of her time cheerleading for the Hinsdale Central...