National Honors society holds Stuff the Truck food drive
On Friday, Nov. 18, Hinsdale Central's National Honor Society (NHS) ran the Stuff the Truck food drive. Donations consisted of canned goods, high proteins, diapers, and personal items. 
All donations went towards the People's Resource Center in Westmont. 
"[The People's Resource Center] sets up a food pantry for people in our local area who need some help, they provide resources for people who are looking for jobs or are new to the community," said Mallory Bauer, NHS sponsor. 
The organization collected a variety of items ranging from food to personal items. Notably, the People's Resource Center was very pleased with the amount of donated diapers this year.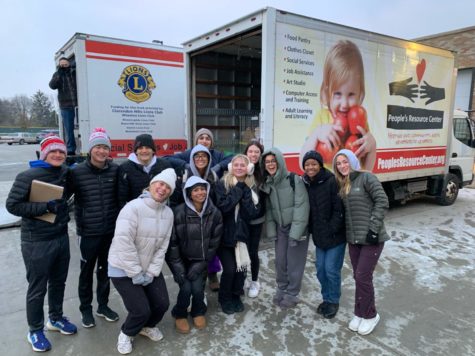 "I noticed that a lot of people brought in canned items as well as razors, toothbrushes, and shampoo and conditioner," said Carter Knotts, a senior who volunteered on Friday to collect the donations. 
Most NHS members donated 10-50 items, but several people also supported the food drive by standing out in the cold to load donations into the truck. 
"I donated 50 items, half of them were pasta and soap bars available in my house and others were canned goods I purchased from Jewel," said Jia Sunkara, senior. 
This was the National Honors Society's second major event this year which ran very smoothly. However, the unexpected snow on Friday made the collection process chilly. 
"This is the first year I've done it where it was snowing, it was so cold, but it was so worth it because you know it's going to a good cause," Bauer said.
For more information, email Kathrynne Saunders or Mallory Bauer.
Leave a Comment