Behind the scenes of Hinsdale Central's nineteenth annual Cultural Fair
On Friday, April 28, Hinsdale Central hosted their annual Cultural Fair. Snippets of the Cultural Fair were presented during ninth period, which was split into two halves for each half of the student body to attend. Later that night, students and families could attend the Fair to see a variety of booths showcasing each culture, as well as a longer duration of performances that students did not see during the school day. 
The fair, which has been running for 19 years, has been organized with the hopes of displaying and representing the variety of cultures which Hinsdale Central students share, including the Philippines, India, Myanmar, Thailand, Greece, Latin America, Ghana, and many more. The fair consisted of a multitude of different dances, songs, and food. 
As with every school event, the Culture fair took a substantial amount of time and effort to coordinate among numerous students and faculty. Planning for the Culture Fair began early in the semester.
"We started working [on the fair] in January," said Caitlin DeLacey, International Club sponsor. "Pretty much all of the second semester is spent on working on the fair."
Once students present their performance ideas, they must be approved by the organizers, everything else is prepared by students. Students began communicating and organizing weekly practices for their groups after school. 
Due to the fact that many of the performances are dance based, students said music choices are an important component. Many different groups had different ways of selecting the music choices. For the Bollywood group, a lot of time was spent researching music options.
"We kind of went through our playlist looking for songs that were easy to dance to," said Saanvi Sethi, senior, one of the leaders of the Bollywood dance group. "We also lo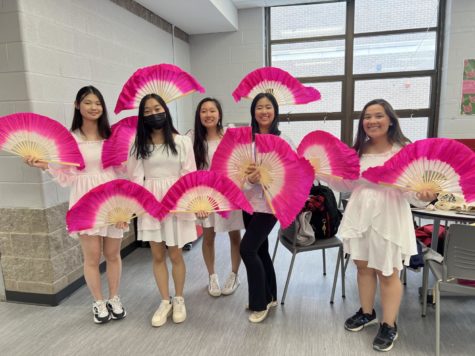 oked for songs that were fun for the audience to listen to."
The Bollywood dancers ultimately chose a medley of different Bollywood songs, including "Radha", "Balam Pichkari", "Aila Re Aila", "Pinga", "Ghar More Pardesiya", and "Kala Chasma".
"Bollywood is music from Bollywood movies, so we just looked for stuff that was easy to choreograph and popular," added Zoeya Khan, senior and another leader of the Bollywood group. 
For the Filipino Tinikling group, the music selection was a little different. The music selected was a mix between traditional and modern.
"We included American music for our target audience, but it's just a different tempo for when we actually move the sticks when dancing," said Therese Moraleda, sophomore and participant in the Tinikling group.
For the Hispanic Student Association, selecting music was more complex. As the group was going to demonstrate three different styles of dancing in their performance, they had to select three different music styles to represent the dance styles as well.
"We are presenting three different types of Hispanic dances," said Brianna Birmingham, senior member of Hispanic Student Association. "We are doing bachata, cumbia and merengue." 
HSA's song selection was catchy and highlighted music from Hispanic culture. One song featured was "Después de la Playa" by Puerto Rican musician Bad Bunny.
After student leaders spent much time preparing the music options, it was time to practice the performance. Students were recruited into the performances through friends, daily announcements, and social media. Many felt excited for a chance to represent their own individual culture. 
"I heard about fan dancing through social media," said Ariel Wong, senior and participant in the Chinese fan dancing. "I chose to do this activity because I thought it would be fun and I haven't done anything like this before, showing off my culture in this way. So I thought, if this is my last year in high school I'll just have fun with it."
Students of all skill ranges participate within the performances, which required much practice in order to prepare students for the big day.
"The amount of practice varies each week, but usually we try to practice three to four days a week. Practice is just two hours, and is a continuous review. It's more based on coordination because not only do the clappers have to clap at the right tempo, but the dancers have to take their feet out and dance when they can," said Moraleda.
Hinsdale Central's Culture Fair as the Cultural Fair provides an annual experience for Hinsdale Central students to proudly showcase their cultures within a supportive school environment while bonding with fellow peers at the same time. If you would like to participate in next year's Culture Fair, join the International Club, which meets every other Thursday before school. Email Caitlin DeLacey with any questions regarding the club or the Cultural Fair. 
Leave a Comment