On Friday Sept. 22, the whole school came together during the pep rally for Homecoming.
During the pep rally, students played games, the cheerleading team and the poms team performed and the Homecoming court was announced. 
The rally happened a day before Homecoming to get students excited for the dance.
"The pep rally is fun and entertaining for students," said Sally Phillip, the clubs and activities director. "[It] unites us all with school spirit."
Story continues below advertisement
The cheerleading team had a show with multiple songs and gymnastics moves such as backflips, cartwheels and balancing.
"The cheerleading team prepares for [the] pep rally by first deciding who will be choreographing each section of the routine," said Jennifer Ellinghausen, head coach of the varsity cheerleading team.  "When everything is planned, we have a choreography day where we learn the whole routine."
As well, the homecoming court participated in the pep rally. The court is a collection of 20 seniors, nominated by their fellow senior class. At the Homecoming dance, one pair is awarded Homecoming royalty.
"To get nominated for Homecoming court, you first have to sign up with a friend to be on the [Homecoming] court ballot," said Faris Siddiqui, senior and a homecoming court nominee. "Then, seniors vote for which pairs they want on court, and the ten pairs with the most votes are nominated."
 Throughout the week, they dress up to participate in games during the pep rally.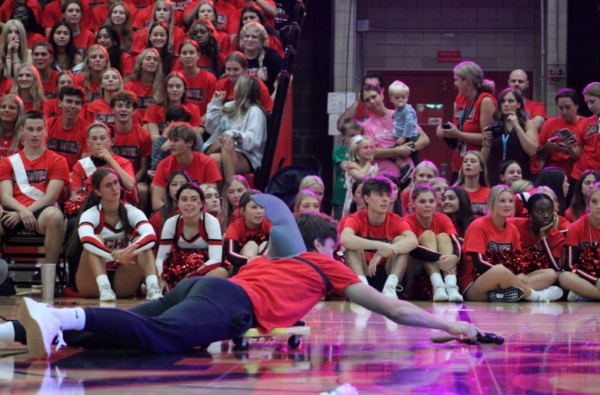 "We're basically the entertainment for the rally, but it's also a way for the whole school to see who we are and decide which pair they want to be royalty during the Homecoming dance," Siddiqui said.
To see more of the pep rally, click here.