Students can finally relax during their December break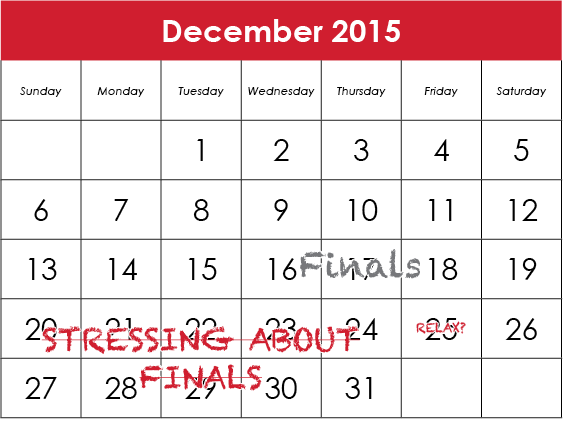 After two consecutive disruptions to the finals' schedule due to poor weather, the District 86 School Calendar Committee has finally approved a calendar with finals ending before winter break. I think I speak for most of my peers when I say: it's about time.
Under the new calendar, the 2015-2016 school year will begin on Monday, Aug. 17, instead of Friday, Aug. 21.
While starting school four days earlier would mean a shorter summer this year, the end of next school year on Friday, May 27, 2016, ensures that future summers will remain their current duration.
"[Students will] probably be disappointed, but then next year it'll be the same. So I don't think it's really going to matter in the long run," said Samantha Tarvin, a sophomore in favor of the proposed calendar.
However, the community remains divided over the question of finals. While some community members believe that students need a true winter break to relax, others maintain that the lack of winter break to study for finals would decrease performance on finals.
"This is a better decision in regards to a number of different issues [including the] social emotional advantage of having a true break over winter," said Assistant Principal William Walsh, Hinsdale Central's representative on the School Calendar Committee. "The teachers really are invested in the kids' academic well-being."
Moreover, the five emergency days built into the calendar will still remain. However, since students will have already taken their first semester finals before the weather becomes severe, snow days will not affect the finals' schedule. The emergency days also ensure that extra days will not be added to the end of the school year.
Although District 86 exceeds the requirement for the minimum number of school days in a year, the administration believes that making up the cold days is vital to students' education.
"The community that we live in is so highly invested in academic success… [that] we don't want to have all these frivolous days off," Walsh said. "The teachers are [also] paid for 185 days."
Meanwhile, some teachers don't think that students' academics would suffer from the lack of make-up days.
"I think it would be fine if we didn't make [them] up because as soon as we have a cold day, I always make adjustments immediately within a unit, so I can still keep pace," Spanish teacher Kristine Pohlman said.
While the jury may still be out on the make up days, I'm happy to see that Central is finally allowing its students to breathe during their much anticipated winter break.
Leave a Comment