The stressful search for parking for sophomores and juniors
Once you turn 16, you become eager to drive everywhere. School, your friends' houses, restaurants, and basically wherever you can. However there's one minor problem with that list. Hinsdale Central doesn't have parking for all students who can drive, just for select seniors.
Okay, so I've taken the bus since 3rd grade. So I know just as well as anyone else that the bus is a MAJOR struggle. So as soon as I was able to drive, I wanted to get as far away from that yellow chamber of horror as possible, but Central's parking situation made that a bit difficult.
Some Sophomores and Juniors are lucky enough to have relatives or friends that live just a short walk from the school, but for those poor unfortunate souls like myself, finding parking close to school is a labyrinth.
The worst part? Usually, the closer the spot is to the school, the more expensive it is. Yeah…it's rough. So even if you're lucky enough to find a good spot, you could be paying up to $1,000 per year to park there.
Emily Knutson, junior, shares the eagerness of wanting to have the daily luxury of driving to school, but, like most students, has found that to be quite difficult.
"It makes it difficult for us to get to school and figure out how to get [here] every morning," Knutson said.
Over the past several years, many students have paid for a spot at Belluomini's, a local bar across the street from Hinsdale Central, but now that opportunity has been lost because the bar was torn down to build houses.
Frankie Barreda, junior, believes that what was Belluomini's could have served for another purpose beneficial to Central students.
"Where the construction going on across the street from the school, I believe they should build a parking lot instead of houses," Barreda said.
Granted there are some available parking spots on Grant St. outside of the school, but if you want one of those, well, you're going to have to wake up early. Like really early.
Haily Baran, junior, frequently tries to get a spot on Grant St, but is also frequently met with disappointment.
"Getting a spot is really stressful and difficult, I usually have to wake up around 5:45 or 6 [A.M.]," Baran said.
All the stress of trying to find a spot throughout your sophomore and junior years will pay off eventually, however. Once senior year rolls around, for at least one semester, you won't have to worry about getting a close spot. So hold on Central, that day will come.
Leave a Comment
About the Contributor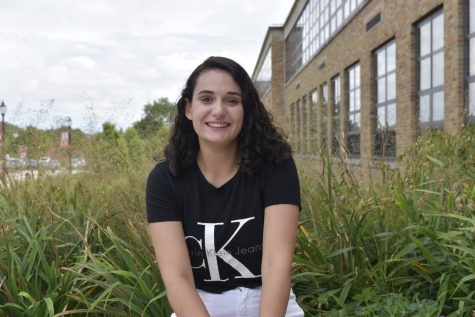 Libby McCarthy, Editor-in-Chief
Senior, Libby McCarthy is quite possibly the most awkward person on the planet and is almost never serious. She can frequently be found making references...