Zach's Declassified High School Survival Guide
Now that the new school year has started, there is a whole new batch of freshmen who are just as confused and intimidated as previous generations. They are learning first-hand how hellish high school can be when first starting out; but there are a few things that they should know to make the beginning, middle, and end of their high school experience infinitely better.
You can never be too organized. No matter how put-together you think you will be this year, odds are, you won't be. Keep yourself in check and save absolutely everything that has even the slightest chance to bite you in the butt if lost.
Take advantage of the cafeteria. We are lucky to have a good selection of food at our disposal. So have some variety in your diet. "Curly fries everyday adds up quickly… trust me" said Brett Koronkiewicz, senior.
Get involved. You have heard this time and time again, but almost every senior will tell you that there was at least one club that they wished they had joined in their four years."My biggest regret is not joining all of the clubs that I always thought sounded cool, but that I was too nervous to actually do" said Subha Sivakumar, senior. Join as many sports, clubs, and activities as you can. This will assist in not only just having fun and forming new interests, but also in building relationships you will keep all through high school.
Always attempt to broaden your social horizons. One of the greatest part of high school is the social aspect, and limiting yourself in that respect is doing a disservice to yourself, "I really stuck to my middle school group… I kind of wish I didn't do that, because a lot of my closest friends now [are ones] I did not go to middle school with" said Alison Albelda, senior. Though sticking to your middle school friends may seem safe, it eventually becomes impossible. People have different classes and make new friends, this is inevitable, so meet and talk to as many new people as you can.
Most importantly, don't stress yourself out too much. Remember that there will always be another test and that this one Earth Science project won't determine what college you go to.
Keep these things in mind while you coast through high school. Relish every stressful, painstaking, and exhausting second you spend here, because no matter how far away it may seem, graduation will come sooner than you think.
Leave a Comment
About the Contributor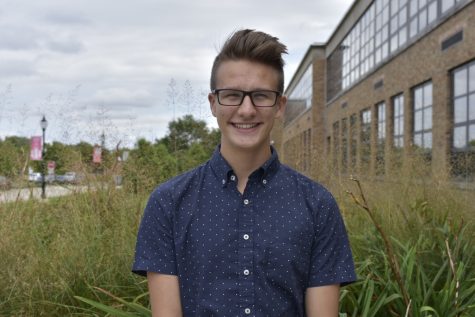 Zach Wols, A&E Editor
Zach Wols is a senior who is an A&E Editor. He loves to hang out with friends and play guitar. He hopes to major in journalism when he gets out of...