Give us the fence
Football has returned to Central, and with it comes the roaring student section. Red Devil Nation is known for its colorful signs, wacky dress days, and packed stands. With the resurrection of Red Devil Nation, there's growing tension over who gets to stand near the "fence" at the football games.
The same set of kids standing at the front of the stands, against the fence, are seen every week. Other students complain of not getting their turn at the fence. What really needs to happen is that if a student is going to stand at the fence, he/she needs to get loud to cheer on the Red Devils, plain and simple. If the same group of students continues to hog the fence and not exude spirit, they should give the spot to other groups to cheer.
"Seniors should be near the front because they've earned it," said Kaitlin Barbour, junior. "The other students should file behind them by grade level."
Yet, there are around 700 seniors, and there is no chance that all 700 will be able to stand against the fence. It comes down to who pushes through to the coveted position.
"I stand on the putter part of fence," said Heidi Wittwer, senior. "I try my hardest to get closer to the middle and toward the action, but I keep getting pushed out."
This competition to get on the fence may also be fueled by the increase in school spirit, which has been redeveloped through Red Devil Nation and the new social chairs.
"You really can't change whether you get on the fence," Barbour said. "You just have to push for it and get there super early."
But the early bird that gets the worm isn't always the most spirited bird. Students have communicated their concerns with Will DeAngelis, one of the social chairs.
"Groups of guys feel like they will get louder and rowdier than some of the current people on the fence," said social chair Will DeAngelis, senior. "They're not entirely wrong."
It's the social chairs' aim to increase school spirit at our after school activities, and in our assemblies. To maximize these efforts, they need to put their best fans forward.
"We want people to be active leaders," DeAngelis said. "We're asking that if you're not going to be the loudest ones there and fight with your rowdiness to be on that fence, take a step back and let someone who is really passionate about cheering the team on, getting loud on every single play, and chirp the other team onto the fence."
DeAngelis, and his partner Chaz Zayed, are trying their hardest to make sure that these goals are achieved, whether that means mixing the kids up, or moving people around.
Students with spirit, fight for your spot, show your dedication, and embrace the Red Devil spirit. Unhyped seniors, don't block the fence with your conversations and inattentiveness.
Anyone can get a spot, whether that be a freshman, or a senior. You just gotta get rowdy.
Leave a Comment
About the Contributor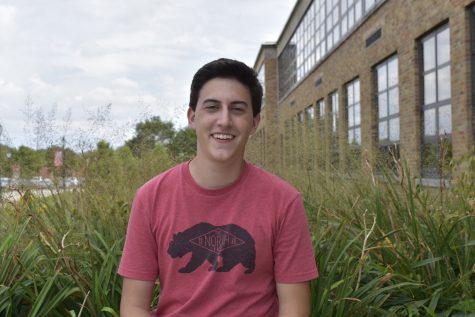 Zeljko Kospic, Writer
Zeljko Kospic, senior writer for Devils' Advocate, loves to write, socialize, and eat. He is a self-taught guitarist, with a passion for all music genres....