Movie favorites for halloweekend
This year, Halloween falls on a Monday, so it's unlikely that students will be out celebrating the night of (especially with a lot college applications due the next day. Right, seniors?). However, that doesn't mean you can't have fun over the weekend.
While some students are planning to go to parties (please just leave the Harambe and Harley Quinn costumes at home), others are just looking forward to binge-watching movies with friends or family at home. If you're still stumped on what movie to watch, look no further. We've compiled a list of recommendations from Red Devil Nation for your viewing pleasure.
For those who prefer the scarier side of Halloween, there are plenty of horror movies to choose from.
"My favorite [Halloween movie] is probably 'The Conjuring,'" said Camille Kim, senior. "Knowing that it's based on a true story and that the people in the movie are based off of actual victims makes it more interesting and terrifying."
Even those who aren't huge fans of the genre give it respect. After all, it was practically invented for Halloween.
"I'm not really the biggest horror movie fan in the world, but there's been some horror films I've seen that I do like quite a bit," said Mr. Jim DiDomenico, film studies teacher. "One of them is this movie called 'Let the Right One In.' It's a Swedish film about this girl who's a vampire, and it's just very cool and different from an American type of film. It's got a different vibe to it. 'The Shining' is sort of a classic psychological, crazy movie as well."
However, there are plenty of other movies for people who want to stay away from the horror genre. Many students recall childhood favorites that have stuck with them through the years.
"I really liked the movie 'Monster House' when I was little," said Jack Kanzler, senior. "Although it was pretty scary when I was younger, I really liked the concept, and the animation was pretty good."
Students still enjoy family-friendly movies for reasons beyond nostalgia as well.
"My favorite Halloween movie is 'The Nightmare Before Christmas' because it combines my two favorite holidays," said Allison Schaefer, junior. "You can watch it multiple times a year because it works for Halloween and Christmas."
Freeform (formerly ABC Family) is currently playing many movies for its "13 Nights of Halloween" special, but if you missed those there are plenty of streaming services online for all your movie marathon needs. Whether you prefer horror movies or family-friendly ones, you can find a full list of other student and faculty recommendations below.
"The Conjuring" (R)
"Let the Right One In" (R)
"The Shining" (R)
"Monster House" (PG)
"The Nightmare Before Christmas" (PG)
"Halloweentown" (TV-G)
"The Exorcist" (R)
"Hocus Pocus" (PG)
"The Addams Family" (PG-13)
"Corpse Bride" (PG)
"Scream" (R)
"Halloween" (R)
"Casper" (PG)
"Psycho" (R)
"Beetlejuice" (PG-13)
"Coraline" (PG)
"Hotel Transylvania" (PG)
"Poltergeist" (PG)
"Ghostbusters" (PG)
Leave a Comment
About the Contributor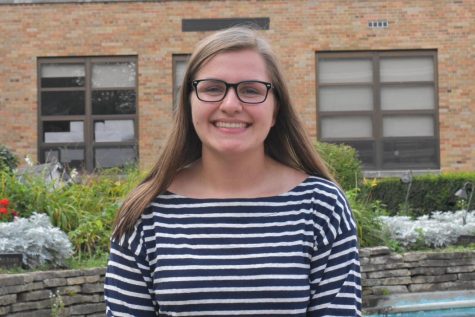 Hannah Anderson, Editor-in-Chief
Hannah Anderson is a senior whose second language is Internet. When she's not working on things for Devils' Advocate, she can usually be found blasting...