Review: The Weeknd's "Starboy"
The first thing that came to my head upon listening to Starboy was surprise. Granted, I'm unfamiliar with most of The Weeknd's work besides his hit singles and other songs off of his Beauty Behind the Madness album, but, Starboy's sound is a bit of a change. This change was not only unfamiliar, but a bit unpleasant.
The album's first song "Starboy" is already topping the charts. This makes sense because it's closer to mainstream pop than The Weeknd has ever been. "Starboy" features Daft Punk which helps give the song a more upbeat vibe; a change from the dark, sometimes eery stuff from which The Weeknd became so famous. Some say this is a much needed change, however, to a lot of listeners, it's far from it.
"It feels like a watered down retread of the same old tropes," said Mehan Jayasuriya, a contributing writer, in a Pitchfork review of Starboy.
This is true, as the album has plenty of songs that sound eerily similar to old ones. Take "Reminder" as an example, it sounds like a remake of "Often," but the same goes for "Six Feet Under." Jayasuriya is right in it being "watered down," too. Some examples of this are "Rockin'," "Secrets," and "A Lonely Night," which all sound like nothing more than superficial pop songs.
One thing that contributed to The Weeknd's rise was the content of his music, which was usually extremely sexual. With the exception of "Starboy" and "Die for You," this album strays away from that too. Sure, singing about sex gets old, but that's what made The Weeknd The Weeknd.
Many people don't mind this new version of the musician, though. And besides that, there are other songs of the album that sound like The Weeknd we're all used to.
"Stargirl Interlude" is one of such songs. It's set to a dreamy backdrop and features Lana del Rey. The song has a mystique that the rest of the album could use more of.
"All I Know" is another good song from the album. It features the rapper Future and has a dark feel to it, which paired with the rap, makes it sound more mature.
Overall, the album is a step back for The Weeknd. In a time where creativity and experimentation is appreciated, The Weeknd instead tried for cliché pop, a change which turned out to be for the worse.
Leave a Comment
About the Contributor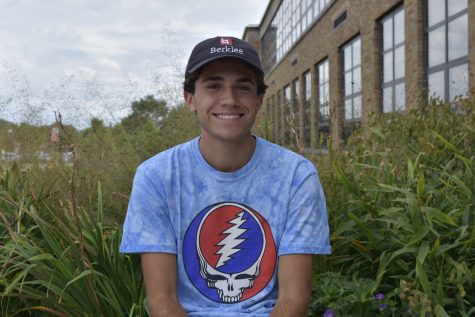 Jacob Belgrad, Writer
If you can't find Jacob at the skatepark, or at the Hinsdale central track, then good luck finding him, because as a lover of nature he's probably in the...