Down with DeVos
On Tuesday, Feb. 7, philanthropist and politician Betsy DeVos was unfortunately confirmed by the Senate as the new United States Secretary of Education with a 51-to-50 vote. DeVos is not qualified to be assuming such a distinct position. As a student of the U.S. public education system, I'm incredibly fearful of what's to come for my classmates and I.
The decision to confirm DeVos was highly controversial. The Senate was completely split, so Vice President Mike Pence was called to the Capitol to break the tie. This was the first time in U.S. history that a vice president has ever broken a tie on a cabinet nomination. Leading up to the vote, the Senate was flooded with phone calls and emails from concerned constituents. The numerous attempts to derail the disastrous confirmation even convinced some representatives to vote against DeVos, including Senator Lisa Murkowski of Alaska, one of only two Republicans who rejected the nomination.
"I have serious concerns about a nominee to be secretary of education who has been so involved in one side of the equation, so immersed in the push for vouchers, that she may be unaware of what actually is successful within the public schools, and also what is broken and how to fix them," Senator Murkowski said in a press release on her website.
DeVos has promoted private school vouchers and public charter schools for much of her career. In addition to being chairman of the American Federation for Children, the nation's leading school choice advocacy group, she and her husband founded their own charter school, the West Michigan Aviation Academy. The idea behind these charter schools is admirable, due to the fact that it could bring children from less fortunate districts to schools with more opportunities. However, the schools are hardly a good idea in practice.
In Michigan, now that families received the choice between their resident district and other charter schools, the charter schools have become increasingly segregated. One such case can be seen with the Holland Public Schools. In the 20 years since families have been allowed to choose their school, Holland has lost over 2000 white students. Forty-nine percent of school-age children living in the Holland district are white, but they make up only 38 percent of the school population.
Many parents are eager for DeVos to implement a similar system nationwide, claiming that they have better resources, less racial tensions, higher test scores, and an overall better environment. While the graduation rates in Detroit's charter schools are slightly stronger than those of its public schools, their test scores are nearly identical to other public schools around the nation. Slightly better test scores are not worth it if they come at the price of diversity in the nation's public schools. As a high school student, I can't imagine what my life would be like without the interactions I've had with diversity at Central. Diversity has opened my eyes up to a world of knowledge, that Michigan students are now lacking.
DeVos is hardly prepared to take on the responsibility of managing our nation's public schools. Neither she, nor her children, have attended public school. She knows very little about public education in the U.S. compared to her predecessor, Dr. John B. King, Jr. Prior to becoming secretary, Dr. King had been the Department of Education's principal senior advisor, the State of New York's commissioner of education, and many other education roles. DeVos has no similar experience.
This lack of experience was clear during her confirmation hearing, in which she continuously gave vague answers that were often wrong or ignorant. When Senator Chris Murphy of Connecticut, who had to deal with the horrific Sandy Hook shootings, asked about the place of guns in schools, DeVos responded with a convoluted and insensitive answer about grizzly bears. Later, Senator Murphy tweeted this:
Tonight #BetsyDeVos would not oppose putting guns in our schools. I was shaken to the core by her answer. So should every American parent.

— Chris Murphy (@ChrisMurphyCT) January 18, 2017
When Senator Patty Murray of Washington asked why the performance of virtual schools was so poor, DeVos listed a slew of highly incorrect cohort graduation rates in attempt to prove Senator Murray wrong. For example, DeVos said the Nevada Virtual Academy has a 100 percent four-year cohort graduation rate, when the school's own report card shows a rate of 63 percent.
This misinformation and lack of preparation demonstrates how unqualified DeVos is for her job. Her family has made numerous large donations to the Republican Party, so it's not hard to see why she was given a leg up in the nomination process. Americans shouldn't support a public official who knows so little about their job, and they certainly shouldn't support a Secretary of Education who is willing to put public schools on the back burner.
Leave a Comment
About the Contributor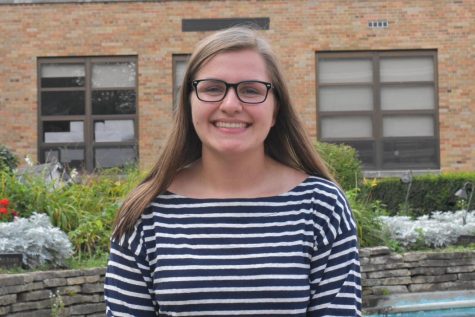 Hannah Anderson, Editor-in-Chief
Hannah Anderson is a senior whose second language is Internet. When she's not working on things for Devils' Advocate, she can usually be found blasting...